There's nothing nice about potholes.
But there's something nice about the superstars in dent-a-car.
Proceeds from the sale of "Undercover Pothole" by local disc jockey Jim Quinn are going to the Western Pennsylvania Heart Association for research, screening, education and cardiopulmonary resusitation programs.
What prompted Quinn to pen such lines as "Underover pothole, a curse to all who hit 'em. I'd like to know just 'cause it snows why do we always get 'em?"
"Someone should say something about potholes, and I though this would be a good way to maybe get the right people to work on the problem," he said. "I expected Pittsburghers to be able to identify with it."
With "Bills for an alignment and for an A frame, too. It's up on blocks with broken shocks and a set of tires too"? You bet your bumper guards most Pittsburghers can.
"Undercover Pothole" was produced locally by another DJ, Dave Mason, who fazed out the vocal channels of Alan O'Day's hit from last year, "Undercover Angel," to provide the instrumentals for Quinn to record over.
"Kids think the song is funny," Quinn said. "but the adults recognize that I'm making a statement."
The last verse pinpoints the adult who needs to recognize it the most: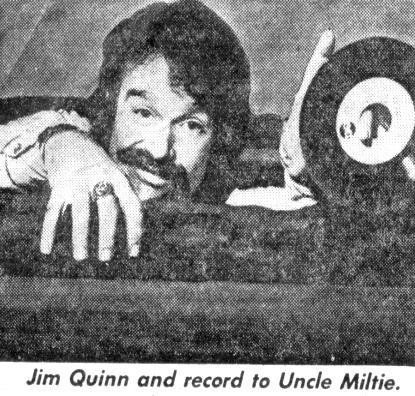 "I'd like to see the gov'nor and tell him how I feel and find out why our city gets such a rotten deal.
"It's different out in Harrisburg. The roads are smooth and fast. And they could be the same out here if Uncle Miltie'd get off his bleep."
Let him drive over a Pittsburgh pothole and he'll rise off it quick enough.