When Kool 94.9 first came on the air in October 1989, a Direct Mail Marketing letter was sent to Harrisburg residents.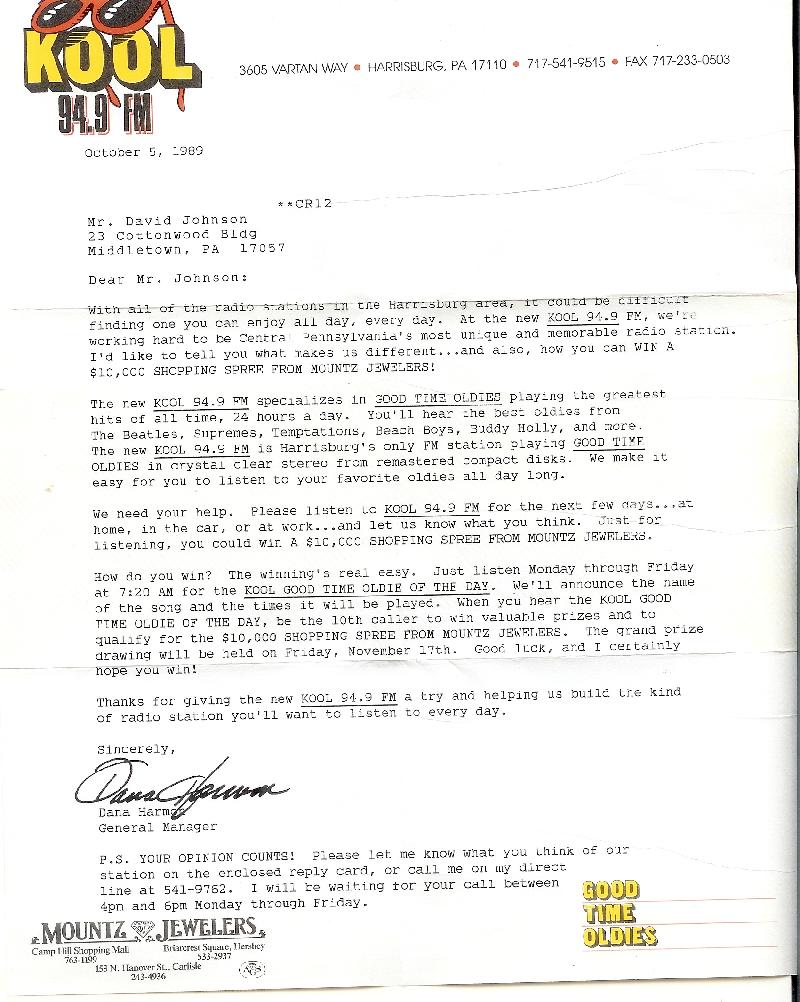 (click on letter for larger version)
Here is the text of that letter sent on KOOL 94.9 letterhead.
October 5, 1989
With all of the radio stations in the Harrisburg area, it could be difficult finding one you can enjoy all day, every day. At the new KOOL 94.9 FM, we're working hard to be Central Pennsylvania's most unique and memorable radio station. I'd like to tell you what makes us different ... and also, how you can WIN A $10,000 SHOPPING SPREE FROM MOUNTZ JEWELERS1
The new KOOL 94.9 fm specializes in GOOD TIME OLDIES playing the greatest hits of all time, 24 hours a day. You'll hear the best oldies from The Beatles, Supremes, Temptations, Beach Boys, Buddy Holly, and more. The new KOOL 94.9 FM is Harrisburg's only FM station playing GOOD TIME OLDIES in crystal clear stereo from remastered compact disks. We make it easy for you to listen to your favorite oldies all day long.
We need your help. Please listen to KOOL 94.9 FM for the next few days ... at home, in the car, or at work ... let us know what you think. Just for listeneing, you could win a $10,000 SHOPPING SPREE FROM MOUNTZ JEWELERS.
How do you win? The winning's real easy. Just listen Monday through Friday at 7:20 AM for the KOOL GOOD TIME OLDIE OF THE DAY. We'll announce the name of the song and the time it will be played. When you hear the KOOL GOOD TIME OLDIE OF THE DAY, be the 10th caller to win valuable prizes and to qualify for the $10,000 SHOPPING SPREE FROM MOUNTZ JEWELERS. The grand prize drawing will be held on Friday, November 17th. Good luck, and I certainly hope you win!
Thanks for giving the new KOOL 94.9 FM a try and helping us build the kind of radio station you'll want to listen to every day.
Sincerely,
Dana Harmon
General Manager
P.S. YOUR OPINION COUNTS! Please let me know what you thing of our station on the enclosed reply card, or call me on my direct line at 541-9762. I will be waiting for your call between 4pm and 6 pm Monday Through Friday.