The Rock Of Harrisburg . . .

On Valentine's Day of 1972, The Rock of Harrisburg signed on.

Unlike many other cities of the era, Harrisburg, PA didn't have a strong Top 40 heritage. York had the Mighty 910, WSBA , with its 5kw signal serving as Harrisburg's Top Forty station as well in the late 50s and early 60s. Lancaster had 1390, WLAN, but the signal didn't reach Harrisburg. WKBO dabbled in Top 40 briefly in the late 1950s, but it wasn't until WHGB became Top 40 in 1962 that Harrisburg had a Top 40 station of its own. About a year later WHGB became WFEC, the call letters having been imported from Southern Florida. In 1965, Harold Swidler signed on AM 1000, WIOO in Carlisle as a daytime Top 40. 1460 WCMB and 960 WHYL played some contemporary music, but were largely regarded as "chicken rockers".

On Valentines Day 1972, Harrisburg didn't receive flowers, candy or even a diamond ... however, it did get a "rock". Here's more from John Summers:

"The AC approach didn't work out, and the decision was made to go Top 40 against WFEC. Bob Alexander was brought in as PD/morning man from WVAM Altoona. Les Howard was on middays, followed by Jonathan Harris (aka Dennis Elliott, who worked in Pittsburgh for years), Jim Roberts at night (now PD at WOLZ Ft Myers FL) and Gary Knight overnights. Gary later moved to afternoons and is now at KLDE in Houston. Dan Steele (then known as Lou Raymond) and I were on weekends. WKBO officially went Top 40 on St. Valentine's Day 1972, although we had been toying with it for a few weeks. The day "Black Dog" by Led Zeppelin went into rotation made it official!"
The Program Director was Bob Alexander. Here is the first air staff

| | |
| --- | --- |
| Alexander in the Morning | 6 - 10 am |
| Les Howard | 10 - 2 pm |
| Jonathan Harris (Dennis Elliot) | 2 - 6 pm |
| Big Jim Roberts | 6 - midnight |
| Gary Knight | Midnight - 6 am |
| John Summers | Weekends |
| Lou Raymond | Weekends |
The jingle package was Phase II produced TM. You can play a sample below.
| | | |
| --- | --- | --- |
| | TM's Phase II | |
WKBO signed on as a hot, upbeat, exciting alternative to heritage WFEC. Although very little exists on tape from WFEC from this era, by all accounts WFEC was the polar opposite of "The Rock Of Harrisburg". Even though WKBO was handicapped by a poor signal and even a certain amount of interference in downtown Harrisburg, KBO still took off like gangbusters.. You see, WFEC's tower was on the roof of the now defunct Blackstone Building (located on the corner of Front and Market, across from the Dauphin County Courthouse) and WKBO's stick was on the roof of the former Penn Harris Hotel (located on the corner of Third and Walnut, where Strawberry Square is now). When you drove down Second Street, sometimes the two stations would interfere with each other. KBO's ancient equipment and physical plant didn't stop the Rock. More from John Summers:

"Bob Alexander is now a Dauphin County parole officer, I believe. What a character. Probably one of the most clever, creative people I've ever met. Apart from his strong on-air personality and production abilities, he was an absolute genius at promotion. He came up with ideas that really caught people's attention. Some were original, others recycled, but they always sounded big. WKBO's first major promotion was giving away a shiny new 1972 Ford Mustang. There were three "Oldies" in the trunk. Listeners were put on the air hourly during the daytime and had to guess the three songs by title and artist. It took all summer but a lady from Middletown finally did it. They also gave away a swimming pool by having people guess, in a kind of a "hi-lo" manner, how many teaspoonfuls of water it would take to fill the pool. Alexander had a physics professor figure it out! We rarely did call-in-to-wins; he always gave everything an imaginative twist.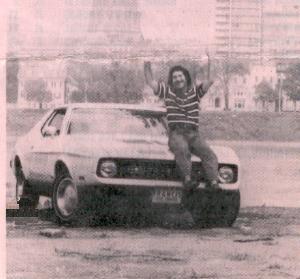 Les Howard with the 1972 Mustang

He also had a great ear for technical quality. He pushed for WKBO's incredible audio processing, which really sounded bigger-than-life. Old equipment, older surroundings, a studio infested with monster-sized spiders that would often fall from the ceiling onto the board while you were doing a break, and a lousy signal from a tower on top of the Penn Harris Hotel. None of this mattered. The station sounded like a million. In the very first ARB after the switch, Jim Roberts was number-one at night. When Jim moved to afternoons, I did the night shift for about a year, then went to Florida in 1973. When Dan returned from WPGC in Washington in 1975, he took WKBO to the next level, eventually outranking WHP."

WKBO took Harrisburg by storm! After many staff changes during the first six months of the format, KBO settled into its first classic lineup, known as "The Fun Lovin' Five: Alexander in the Morning 6-10 AM; Charlie Adams, 10 AM - 2 PM. Charlie had worked at WKBO beginning in 1964 and was part of the 1-2-3 Radio KB walkout in 1971. Charlie returned when Les Howard departed. Jim Roberts, 2-6 PM; John Summers 6 PM - Midnight and Lou Raymond 12- 6 AM. J.C Floyd and Fred Adams, who stayed around until 1980, made up the weekend roster.

WKBO's Fun-Lovin' Five . . .
| | |
| --- | --- |
| Alexander in the Morning | 6 - 10 am |
| Charlie Adams | 10 - 2 pm |
| Big Jim Roberts | 2 - 6 pm |
| John Summers | 6 - midnight |
| Lou Raymond | Midnight - 6 am |
| Fred Adams | Weekends |
| J.C. Floyd | Weekends |
Next: Changes and the Lou Raymond Story . . .