Bob Harper was KQV's Program Director from May 1970 until December 1973. Bob came from WSAI in Cincinnati and succeeded Mike McCormick at KQV.

During Bob's time at KQV, the station transitioned from a teen oriented top 40 to an adult top 40.
A number of new personalities joined the staff while Bob was KQV's Program Director. Jon Summers, Bob DeCarlo, Carl Eckels, Anderson Little, Jeff Christie (Rush Limbaugh), Perry Marshall, Larry Clark, Jim Carnegie and Timothy G Adams all came to KQV during this period.

One of the most important musical trends in radio happened while Bob Harper was at KQV. The use of re-currents became important. New Golds as they were called then were played hourly. Before this time when a song fell off the charts, they disappeared until they were deemed important enough to be played as oldies.

KQV continued to use PAMS jingles while Bob Harper was pd. Grid packages were used including the Music Power cuts. PAMS series 42A, 43, 44, WRC, Clyde, Q and Phoenix were on the air. As KQV morphed into a more adult sound, 14 began to disappear from the jingles as it was felt that 14 emphasized 'for teen'.

KQV promotional giveaways included the Ca$h Call, a 1970 Summer Yellow Mustang, a 1971 Dodge Charger, and the KQV $25,000 Fantasy.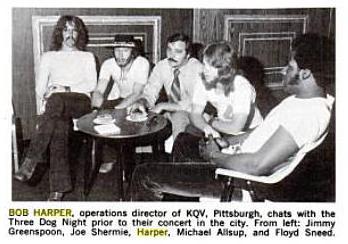 (courtesy Billboard Magazine August 21, 1971)

KQV also had it's stiffest challenge in years, while WIXZ slipped, new competition would develop when WJAS would change to 13Q. Bob would describe the battle in this article in Broadcasting from April 23, 1973.

Bob Harper left KQV in December of 1973 for WKBW in Buffalo, New York. Former KQV personalities Jim Quinn and Jon Summers would later join Bob in Buffalo.

Since leaving KQV, Bob has been a highly successful radio consultant. He headed Bob Harper
& Company Media Researching and Consulting and Keystone Focus Research, a research and consulting company which he sold to Paragon Media Strategies in February 2007. Bob is living in Minneapolis and does some occasional consulting.