John Borders passed away on March 30, 2016 in Dallas, Texas. His obituary can be found here from The Dallas Morning News

Congratulations to John Borders for his Induction to the Texas Radio Hall of Fame, October 30, 2004.

John Borders was KQV's Program Director from December 1967 until September 1968. John succeeded John Rook when he left for WLS. John's career began after college at Baylor. He started at KBEC in 1956. He was working as the morning man at WWJ in Detroit when John Rook called and said he was leaving KQV for WLS in Chicago. After interviewing with John Gibbs, John Borders became KQV's Program Director.

John's time at KQV was an interesting time. It was a transition period as KQV entered the more music era. ABC allowed KQV to drop many of the longer programs including the Breakfast Club and news features including the afternoon News Scope. During this time ABC split the newscasts into the 4 demographic networks and KQV became an ABC Contemporary Radio News affilliate. KQV got a new jingle package. It was a PAMS version of the Drake Style jingles used by KHJ.

This was also the beginning of transition on the KQV staff as well. Popular KQV staff members Dave Scott, Tom Lee and Jim Quinn left. News Director Al Julius also departed. Rex Miller joined the station for a short time as did Paul Randall. A new lineup was set that included... Bob Wilson 6 - 10 a.m., Allen Dennis, 10 a.m. to 1 p.m., Johnny Mitchell 1 - 3 p.m., Chuck Brinkman 3 - 7 p.m., Todd Chase 7 to midnight, and Franklin B Forbes, midnight to 6 a.m.

John may also remembered from his time as host of the nationally syndicated show Power Line.
| | | | |
| --- | --- | --- | --- |
| | | | |
| Allen Dennis | Rex Miller | Todd Chase | Franklin B Forbes |
KQV promotions included KQV Trade-In-Time, the KQV Magic Box, the KQV Money Clearance, and the KQV Truck O'Luck.
KQV Shower of Stars concerts starred the Young Rascals and Tommy James.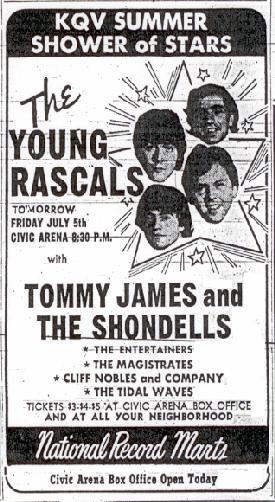 John left KQV in September of 1968 to become national
program director of the Texas State Network stations.