At 34, Chuck Brinkman is an old man.
Being with KQV has aged him prematurely.
It's not that the station has been too rough on him; it's just that he's the second oldest of the station's seven disc jockeys and a full generation older than the adolescent listening audience with which KQV is so popular.
Working in a dual capacity as a disc jockey and music director, Chuck anticipates the day when he may give up the former and resign himself to working behind the scenes, but for the present, he is happy doing both.
Dormont Days Numbered
Chuck's parents lived in McFarland Rd, Dormont at the time he was born and moved to Cleveland when he was five. Later he returned without them to attend Kiski Prep School.
He attended Ohio University for two and one half years before dropping out to become a staff announcer on a Warren, Ohio, station. After two months he moved to Dover, Ohio, and from there to New Haven, Conn., in 1956.
On the suggestion of a friend who offered him a job near Detroit, Chuck switched to a station in Mt. Clemmens, ,Mich., which turned out to be a disappointing 40 miles from Detroit.
From there he returned to Cleveland and joined the National Guard, taking a summer job at WJW while awaiting his call to active duty.
After his six month tour in the service, he joined WCUE, Akron, for a year and then returned to New Haven for eight months.
Almost A Decade
Since coming to KQV in September, 1960 he has not changed stations. Only a nine month recall to active duty has interrupted his work at the City's ABC outlet.
At the time he was stationed at Fort Stewart, Ga., which was about 40 miles from Savannah and it's TV station. Chuck approached the station's management and offered his services during the hours the work wouldn't interfere with his military duties.
The management asked him what he was being paid at the Pittsburgh radio station. He replied: "$200." "We'll give you a dollar an hour," he was told. He took it.
A year before he had begun at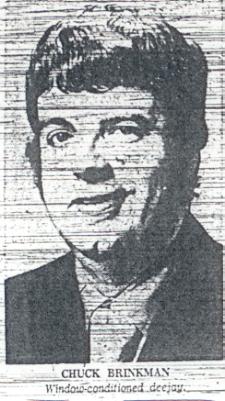 KQV as "the all night satellite" for six months. Then he worked from 1 to 3 and to from 7 to 9 pm.
He was released from active duty ar Fort Stewart just in time to take over the evening slot being vacated by departing Larry Aiken. Chuck worked the 7 pm to midnight show for 5 years.
Also referred to as Charlie at the station, he emceed the "Come Alive" show on WIIC-TV for about 18 months, coinciding with his last year and a half on the evening radio program.
He gave up "Come Alive" when we moved to the late afternoon show (3 to 6 pm Monday through Saturday) on KQV. Add to that his role as music director and it's where he stands today.
Personality On View
The station's showcase window studio is something to be reckoned with.
"You have to condition yourself to it," he said. "large groups have a tendency to stare. They don't emit any emotion. Sometimes you have to try to ignore persons who gape at you.
"And all of us have esoteric, little movements we do," he added, referring to such habits of broadcasters as head scratching and wiping the palms of one's hands of continually.
Chuck lives in Shaler Twp. with his wife, the former Carmella Mamone of the North Hills. He has three songs by a former marriage: Charles B. IV, 8; Lisa, 7, and Jonathon, 5.
He met Carmella in 1966 when she was chairman of the Student Nurses Assn. of Western Pa. The group wanted him to emcee a dance and it was Carmella who had to negotiate the price with him.
If the conversation was anything like his radio show,
Chuck kept his words to a minimum and said them quickly.
Thinking In Tune
His philosophy that "there should be no clutter on the air" is in keeping with KQV's "streamlined format."
The amount of chatter between records is minimized, he said to reduce the "tune out factor."
Stations with a Top 40 formats run a high risk of losing their young listeners (the dial switchers) at the end of each record, and a snappy pace therefore is beneficial.
While this policy has been in effect in one form or another since Chuck joined "Groovy QV," he's watched the trends in popular music shift during the Sixties.
"Today a big thing is the electronic reproduction of music," he said. "You can still make a big hit with the right ingredients."
He mentioned the 1910 Fruitgum Co. and the Archies ("Sugar Sugar") as examples of groups which existed originally in name only.
Interests By Age
Some records, he said, draw a great many play requests from listeners without becoming as proportionally popular in retail sales.
Because the primary purchasers of 45 r.p.m. records are "sub teens and Negroes," it's possible for songs such as Blood, Sweat and Tears' "The Spinning Wheel" to win the attention of the 18 to 34 age group without topping the sales charts.
On the other hand, he said, the LP album containing this recording may tend to do well with it's sales to people who are willing to pay three to four times the price of a "45" to obtain five or six times the amount of music.
Pittsburgh's record trends closely resemble Detroit's, he added. It may be these cities are "the core of provincialism," he said in accounting for the strong preferences here for rhythm and blues and "the beat."
"As music director I have to determine what people will want to hear (of the older songs) and what they won't buy but still want to hear anyway (of the newer ones)," he said.
With trends changing as often and unpredictably as they do in his field, Chuck may find himself often running the route of a record: Around and around, never quite getting to the center.