(Time 7:25 p.m. : Chuck Brinkman rushed into the studio lobby - we quickly exchanged introductions -- and then into the office for an on-the-spot-interview
7:26 p.m.: I questioned Chuck on the history of his career.
7:27 p.m.: We chose studio photos depicting his work at the mike to be used in this article.
7:28 p.m.: 2-minutes before the interview would have come to a close. We make some last minute arrangements to pu together biographical material.
7:29 p.m.: The Chuck Brinkman theme song was heard coming over the air waves -- a quick goodbye and thank you.
Then, 7:30 p.m.: Chuck Flew into the control room to his place behind the microphone and HERE HE IS ........ CHUCK BRINKMAN.)
The musical tones of 'Mrs. Brown You've Got a Lovely Daughter' filter the air and its time once again for another evening on the job. A typical four-hour show consists of the announcement of the 'Secret Word Sweepstakes' clue, followed by strains of "The Freddy" recorded by Freddy and the Dreamers.
After a brief spot commercial its time to play the 'No. 1 Song of the Week.
Now Chuck gives the Tri-State weather report followed by the musical notes of the No. 4 tune, 'Silhouettes," the super hit line.
"Tickets are now on sale for the "Herman Hermitt Spectacular" to be held at the Syria Mosque Monday, May 4 ......" continues Brinkman. "Get in step and get your tickets now."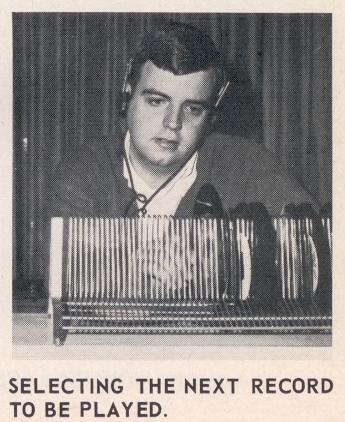 (click above for larger picture)
Time out for five minutes of the latest news and back into the second swinging hour with 'The Instant Action Song,' "Last Night When I Saw Laurie." ........
And off he goes into the night with the original sounds and hits entertaining teenagers young and old with the top hits of today and yesterday.
Chuck's first job in radio came while he was still attending Ohio University, Athens, Ohio. He worked for station WAND in Canton. Then his first real break into the medium came in 1956 in New Haven, Connecticut. Chuck obtained an afternoon disc jockey job for station WELI, sending out over 5,000 watts.
After joining the National Guard in 1958, Chuck spent six months of active duty at Fort Knox, Kentucky. He then returned to Cleveland and in 1959 worked as a newsman - announcer for station WJW in downtown Cleveland.
The staff of KQV opened their arms to a new memeber in 1960 when Chuck arrived as an all night disc jockey. Nine months later his hours were switched to split early evening shifts.
But as the result of a new Berline Crisis, Chuck was recalled to active duty in 1961, this time for nine months. Then in August of '62 he returned to KQV and started his present time slot - 7:30 o.m. to midnight.
"I find the most interesting part of my work is in receiving recognition in public appearances for ideas or sayings that I have been associated with on the air." states Chuck. He has become well know for such sayings as "a little bit of this - and a little bit of that."
Although he is on the air for 4 1/2 hours music preparation is needed. He doesn't just select the tunes he wants to play, but he must work toward musical balance. He tried to achieve a flavor that is current, unusual and controversial. People like to hear the days hits but, Chuck feels there is always room for something brand new in the field, a new style or trend. "It is always satisfying to think you might have helped bring it to life. So you stick your neck out on a few records hoping the publiuc will accept it well."
The most thrilling part of his career so far was last March when he flew to England for interviews with 12 top British groups. One week before this flight, he flew to the Bahamas with the Beatles, whom he also introduced at their Civic Arena concert here last September.
"Another interesting part of my job," Chuck concluded, is the different people you meet at various functions, from telethons to record hops, and personal appearances."
Chuck Brinkman was born in Pittsburgh in July 1935. He is married and has three children: Charles L. Brinkman IV, age 3; Lisa, age 2; and Jonathon, age 6 months.