For many, Dave Scott was KQV. "Daddy" Dave was with KQV before it's conversion to Top 40. He was one of the original members of the KQV airstaff when the Top 40 Format first appeared on KQV on January 1st 1958. Dave was originally on in the everning and was Pittsburgh's Nite - time Mayor. Your "Uptown Irish Doodle Boy" was one of Pittsburgh's Favorites for many years.

Dave's son Greg also worked for KQV in the mid 60's.

Dave Scott left KQV around May 1968. After leaving KQV, Dave worked briefly as a newsman at WIXY 1260 in Cleveland (sister station to Pittsburgh's WIXZ 1360), and then as afternoon drive on country music WEEP back in Pittsburgh.

Sadly, Dave Scott is no longer with us. He passed away on December 2, 1996. Dave's wife, Jane who was kind enough to provide "The Coca-Cola Bottler" Magazine linked below passed away on February 11, 2013.

Many have asked of the whereabouts of Gregg. Unfortunately, Gregg passed away on May 6, 1993.

Thanks to Fr. Thomas Acklin, O.S.B. of Saint Vincent Seminary for his help in providing updated information for this page.
Dave Scott Jingle Montage
Dave Scott 1962 KQV Station Profile
| | | |
| --- | --- | --- |
| | | |
| Dave Scott in 1964 | Dave Scott in 1966 | Gregg Scott in 1987 |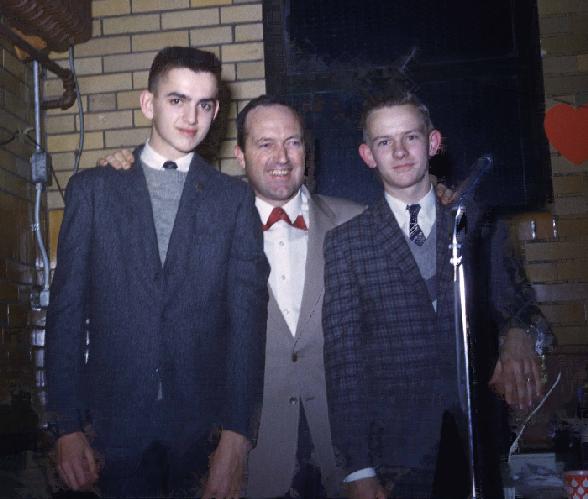 Dave Scott in Studio - Dave Scott with Jim Potyka (l) and Paul Carlson (r) in 1959
(Courtesy of Paul Carlson)
I was able to speak to Mrs. Jane Scott, Dave's widow. She was kind enough to send me pictures and a copy of "The Coca-Cola Bottler" Magazine from August 1966. There are some great pictures of Dave and a wonderful article on Dave, KQV's Coca-Cola "Top Pop 5" from 1966.