Dex Card joined WLS in 1964 replacing Bob Hale in the WLS line-up. Dex was like a lot of other kids who played radio in his house using a hair brush for a microphone. He started in radio in Portland, Maine. Dex was drafted into the US Military during the Korean Conflict and served in Germany. He was fortunate to end up with the Armed Forces network.

Dex's radio stops included Portland Maine, Providence, RI, New York City, Milwaukee, Cleveland and Philadelphia, before getting a call from Ron Riley when Bob Hale was let go by WLS. The next day, Dex Card was introduced to the WLS staff as the new WLS afternoon man. Dex was the Silver Dollar Survey guy on WLS. After 3 years at WLS, Dex decided it was time to move on. It would be a new era at WLS when Larry Lujack replaced Dex Card in afternoons at WLS in 1967.

After leaving WLS, Dex owned radio stations in Wisconsin before selling them in 1989.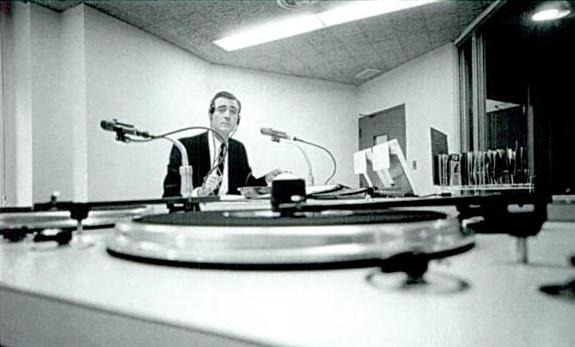 Dex Card in the WLS studio in 1964.
(courtesy of Scott Childers)