When you listen to Johnny McKinney's show you are hearing an announcer with real accent, whether it be Spanish, German, Texan or what have you.
The Texas accent came from Dallas where Johnny spent a year and a half in radio. He was one of the many Texas announcers who headed North shortly after Alaska became a state and KQV granted him asylum.
His linguistic abilities (7 languages in all) started when nine-year old Johnny and his dad took up languages as a hobby. This early experience came in handy later when First Lieutenant Johnny McKinney performed special services for Army Intelligence, including broadcasting in Spanish and German.
Prior to his service experience, Johnny attended Culver Military Academy and later Ohio State where he got his first taste of radio at WBNS in Columbus and set a new collegiate swimming record for the 440 meter free-style event.
Johnny and his statuesque blue-eyed blonde, Carroll June spend their free time with blue-eyed, blonde son, Jimmy. Johnny still finds time for swimming and languages.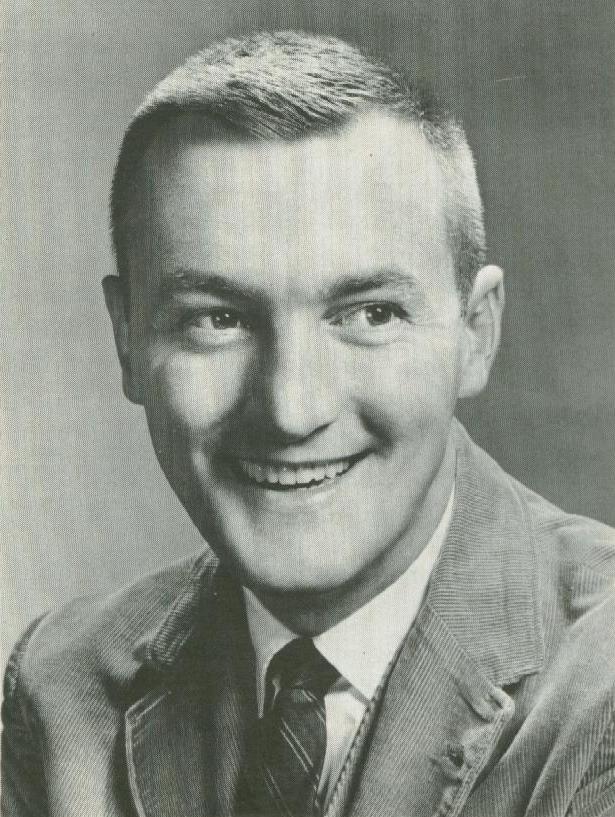 JOHNNY McKINNEY speaks seven languages.
He did a Spanish-English disc-jockey show in
Arizona. Did special broadcasts in Spanish
and German for Army Intelligence.