1969 newspaper ad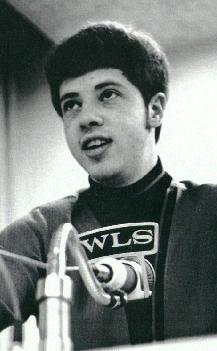 Official WLS Photo
Kris Erik Stevens came to the Rock of Chicago in 1969 to work at WLS. Kris replaced the legendary Art Roberts when Roberts moved to midday as WLS program director John Rook began to reshape the WLS lineup. Kris occupied the 6 - 9 pm slot from October 1970 until the end of 1971.
Kris Erik Stevens joined WLS from KQV in Pittsburgh. KQV personalities Fred Winston and Gary Gears would also join WLS in the next few years, as would KQV Program Director Mike McCormick.
Kris began his career in May of 1962 at WJPD in Ishpeming, Michigan. Kris moved on to WLTH in Gary, Indiana before moving on to KOIL in Omaha. Kris was known as Johnny Mitchell while was part of the legendary KOIL, Omaha staff. The KOIL staff also included Fred Winston, Gary Gears, Sam Holman, Lyle Dean, and Mike McCormick.
Kris's other stops include CKLW in Winsdor, WQXI in Atlanta, WCFL in Chicago, and KIIS in Los Angeles.
Today Kris owns Kris Stevens Enterprises. His work is heard all over the world. His Christmas programs, including "Christmas In The Air", "The Magic Of Christmas", The 12 Hours Of Christmas", and "Christmas In The Country" are award winners. His is the station voice of many TV and Radio stations across the country.