At the end of 1976 . . .
The switch was made on WTAE-FM . . .
from DISCO 96 to . . .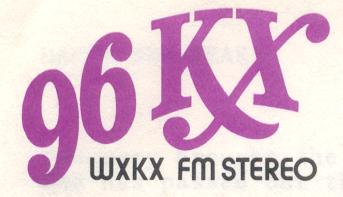 96KX started out as an automated station.
Bobby Christian became the first program director on January 17, 1977. On January 31, 1977, 96KX added live personalities. Suitcase Simpson, Jay Stone, Shaun McCoy (George Hart), and Susie Barbour were among the first to join the staff. Dennis Elliot would join from WPEZ, Blake Lawrence took over mornings. Alan Jennings joined for news. Steve Garrett was added as well. In September, Mike McGann moved over from WTAE and Chris Reynolds joined 96KX too.
The first year included the KX Call Girl who handed out cash. KIX Packs were handed out, The $16,000 Pyramid. And KX Keg Parties. The KX Cash Clock was another way to win as 96KX gave away nearly $150,000 in cash and prizes in the first year.
By the way, the number 1 song of the year on the KX Hits of '77 was "I Just Want To Be Your Everything" by Andy Gibb.
Here are a few samples of the production elements used on 96KX.
Remember, 96KX did not use jingles.

Video below courtesy of Mike McGann
Video below courtesy of James Cahill
Suitcase Simpson 96 KX Aircheck from January 31, 1977 is courtesy of Steve West
of Airchexx.com and Matt "Craig" Seinberg at bigappleairchecks.com

1979 96KX Airstaff


96KX Beaver
Chris Reynolds, Dennis Elliot, Mike McGann
Suitcase Simpson, Jay Stone, Alan Jennings
Clarke Ingram, Steve Garret
(courtesy Ed Salamon & Mike McGann)
In 1983 96KX became Hitradio 96 . . .