Known as Chucky from Kentucky, Chuck Dougherty was one of the first hires at KQV when the top 40 format was put in place in 1958. Chuck hosted mornings and was Program Director. Chuck was at KQV from 1958 -1960. Chuck came to KQV from WQAM in Miami. Former KQV General Manager John Gibbs said, "Chuckie from Kentucky", who trained the other jocks into what emerged as the KQV format. Chuck Dougherty was one of the most exciting wake-up entertainer Pittsburgh radio had ever heard. He was great."
After Pittsburgh Chuck went to WKWK in Wheeling. Chuck's career included stops at WIP, WNEW, WPEN, WGST and WLW. At one time Chuck was also a recording artist and song writer. He recorded on Roulette Records. His songs included "Reluctantly / Lumberjack" (listed as Chuck Darty) and "My Steady Girl / Can't You See" (listed as Chuck Darty).



Chuck Dougherty passed away on January 20, 2018 in Naples Florida.. He was 93 years old.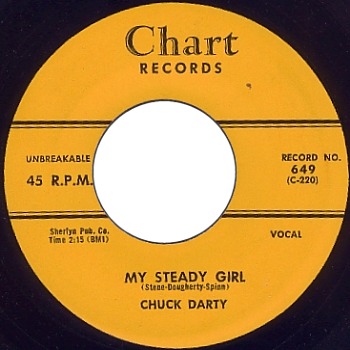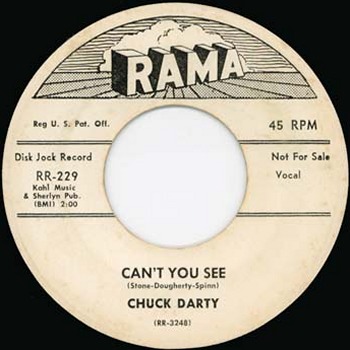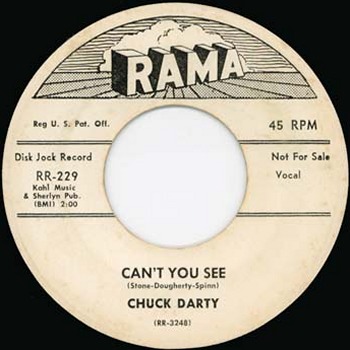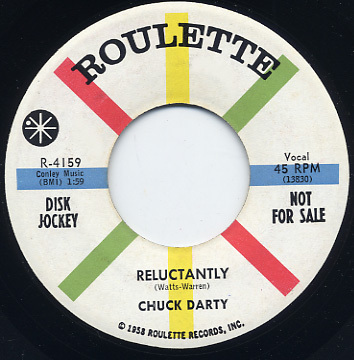 He wrote Freddy Cannon's 1961 hit "Transistor Sister"
Chuck left radio in 1980 and owned a number of Tuxedo shops for the next 15 years.


---

The following article appeared here. http://www.marcoislandflorida.com/articles/2008/08/22/community/19_community_01.txt


Retired disc jockey has a thousand stories

Chuck Dougherty says he had a good career as a radio disc jockey on the East Coast.

By Mike Reilly
Published: Friday, August 22, 2008 9:02 AM CDT



Chuck Dougherty has not had a boring life.



The 83-year old former pilot and big-time radio disc jockey who lives just off Marco Island is enjoying his retirement, but he really hasn't slowed-down all that much.



He used to hobnob with the likes of Tony Bennett and other celebrities.



Now he likes to hang out on Marco with his girlfriend and he still sings whenever he has a chance.



He loves to sing.



In fact, at one time, Dougherty recorded for Roulette Records. He wrote a hit record, too. It was Freddy "Boom-Boom" Cannon's early 1960s hit, "Transistor Sister."



It could have started for this Kentucky native in Seymour, Ind., where he was offered $25 a week at a radio station.



"But I thought to myself that I was making more than that on the G.I. bill, so how am I going to make this thing work?" he said.



He decided it wasn't and turned the offer down.



First



His first radio stint ended up being at WBTH in Williamson, W.V., at $48 a week in 1950.



But to really know Dougherty, you have to backtrack to World War II.



Throughout his condo are models of the planes he flew in the Pacific during the war.



"I first soloed in an open cockpit aircraft, the PT-19," he said with pride. "Later, I flew B-28 Liberator Bombers, 26 missions with the 5th Air Force 90th Bomb Group, 319th Squadron. But I never really worried about the Japanese. I worried more about getting that heavy aircraft off the ground."



That was because their missions lasted sometimes more than 12 hours, so they took-off from the Philippines with 3,100 gallons of gas, 6,000 pounds of bombs, plus a 10-man crew.



"It was slow getting it off the ground. We flew right out over the Pacific Ocean," he said. "We lost several crews just getting it off the ground."



Dougherty would have been part of the Japanese invasion in November 1945, had there been one. The dropping of the atomic bombs ended the war instead.



"One of my favorite sayings is, 'If there hadn't been a Pearl Harbor, there wouldn't have been a Hiroshima,'" he said.



Dougherty received a radio degree from the University of Kentucky. It was rare for a radio DJ to have a college degree back then.



"I worked my way through college singing," said Dougherty. "In fact I got into radio with the thought that I would end up being a singer. I wanted to be a singer primarily."



His shot at recording came later, when he was working in Miami at WQAM. He did the morning show there beginning in 1956. In Miami, he became acquainted with music producers and songwriters Frank Slay and Bob Crewe.



"Actually, my first recording was with Henry Stone, who later discovered K.C. & the Sunshine Band," said Dougherty.



"I first recorded with Henry and he got me the contract with Roulette. For Frank Slay and Bob Crewe, I did my recording in New York City."



Success



While enjoying some regional success as a recording artist, Dougherty never had a big hit nationally. He added that one of his biggest thrills was his first day recording in New York, when sitting next to him was guitarist Tony Mottola, one of Frank Sinatra's longtime musicians.



On that first day in New York, Dougherty recorded a song called "My Steady Girl." Later in his singing career, he recorded with Perry Como's band.



But he wasn't that unhappy about not having a hit record, since he also had a good job in radio and a wife and three children.



Through most of the 1960s and well into the 1970s, Dougherty worked in Philadelphia (WIP and WPEN), except for one year in New York City (WNEW).



Top 40



Most of his radio work through the years was Top 40, but he also worked a little bit in country music, too. On top of that, he did football and basketball play-by-play.



One of the things that happened in the middle of Dougherty's career was the British Invasion and the Beatles. But although he grew up in the Big Band era, and even sang Big Band music, he stayed right with the Top-40 format through the years, enjoying it along the way.



"I have always been one to go with the flow, I like it all," he said. "I knew a singer who just hated rock 'n roll, just hated it. But you just go with the flow. Rock 'n toll is fine."



Dougherty said she doesn't know it, but he gave Annette Funicello her first hit, "Tall Paul."



"I had heard this song by some kids and I thought it had a lot of potential, so I called a friend at Buena Vista Records (Disney) and told him that "Tall Paul" should be a hit," said Dougherty. "He called me back later and said they gave it to Annette and it moved about three-quarters of a million records. But she never knew it was me who suggested the song."



Best interview



When asked who his favorite interview was through the years, Dougherty is quick to respond that it was Tony Bennett.



"This one time I did a radio show with Tony at WIP in Philly. He was great and it was a lot of fun," he started. "Fast forward to that night and I'm at the R.D.A. Club (in Philadelphia) and there's nobody there, except for two couples and me sitting at the bar. All of a sudden Tony slipped in. And on stage is a combo doing Tony's songs. Tony asks me to be quiet as he slips up behind the kid singing and takes the mic out of his hand. I thought this kid was going to faint."



Bennett took over the stage with that kid's band, and proceeded to sing.



"Tony gave us 30 minutes, just two couples and me," Dougherty added with a laugh. "He's such a nice guy."



During his career Dougherty also had a chance to meet with Richard Harris.



"Richard was so easy to talk to, but I told him that whenever he heard 'MacArthur Park' on the radio, you can be sure the disc jockey's gone to the bathroom," he said.



That's because at seven minutes-plus in length, the song gave the DJ some free time.



Being an amiable guy, Dougherty is living his retirement with a smile. Twice widowed, he is close to his three children who live out-of-state and adores his four grandchildren.



His first wife, Mary, was the mother of his children. They were married 1946-1994. Later, he wed Vanetta and was married to her for seven years before she passed away. Both of his wives died from cancer.



"I'm lucky I guess," he adds thoughtfully. "You see so much estrangement in families and it's so sad. I'm so glad that we don't have that. We're all close and I truly love my children and they love each other. Life is pretty good."