Lee Vogel joined KQV in March of 1958 for the 9 to midnight air shift. Lee was part of KQV's Fabulous 5 Plus One.

Lee was a former McKeesport High School teacher who came to KQV from WEDO. Lee left KQV on November 16, 1959 to take over mornings at NBC's WAMP (WJAS).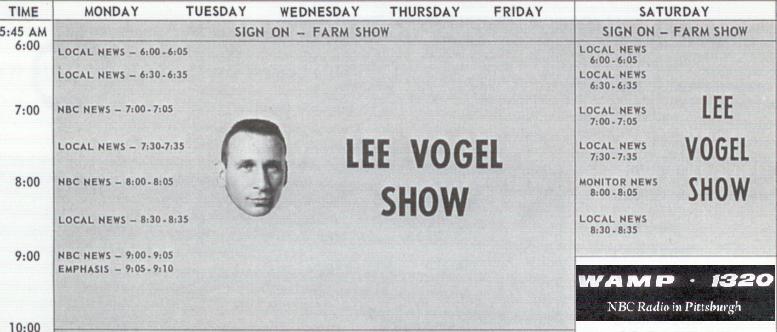 Lee's careeer took him to Canada as well as all over the United States. He spent time at CKEY in Toronto, WKBW Buffalo, WDRC in Hartford, WNBH in New Bedford, Mass, Baltimore, and WBNY in Buffalo.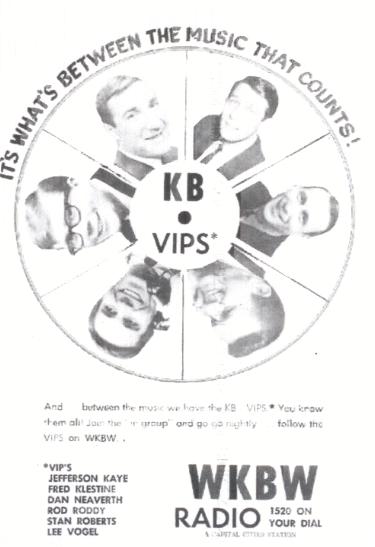 (note former KQV jock Rod Roddy was also at WKBW along with Lee Vogel)

Lee worked in public relations for the Niagara Project and then worked for the city of Buffalo before retiring in 1994. He is now living in Charleston, South Carolina.
---

I received this letter from Lee Vogel on Jnaury 28, 2009...

"Jeff:

Good to hear from you and be introduced to your website about KQV. I've included the promotional flyer from the beginning years of the "Fabulous Five Plus One"(Jim McLaughlin) that stunned the Pittsburgh market in 57-59. We were all in awe of how quickly our popularity grew, and by 1958 Sam Holman had already gone on to bigger market money. He and Chuck Dougherty had cut their baby teeth with Gordon McClendon, the acknowledged inventor of "Top Forty" radio... I thought you might enjoy the WAMP thing as part of Pittsburgh radio history.

My memories of those days in Pittsburgh radio are vivid and warm. I love that city, and I thank you for your efforts to preserve and easily forgotton part of its charm.

Lee Vogel"

Lee Vogel passed away on August 28, 2016 at the age of 89.