"When I think of KQV, I think of February 12, 1966. I was almost 12 at the time, and a member of the Greater Pittsburgh Hammond Organ Society. That day, the guest speaker was Steve Rizen. He took all of us on a tour of the station. I shook hands with Dave Scott, who was on the air when we were there. He was very kind. When he realized that one of my friends and I were blind, he took us into the studio while a song was playing, showed us his mike, and even let us say "Hello," over the air! That was unforgettable. Too bad radio isn't like that today.
... Don Maurer (05/02/03)
---

"Your Website is absolutely excellent!!!!!! I enjoy visiting often, it brings back untold memories. I wanted to ask two things: First of all, do you know if there are any music surveys available from KQV or other stations from 1964 and before? Secondly do you know how one can listen to the History of Rock and Roll series? I can't seem to get a hold of this and someone somewhere must have recorded this. Thank you for your attention. Again, keep up the excellent work with your site."
... Larry Dobkin (04/29/03) The older surveys are hard to find. They were not printed for the stores like the later ones. If anyone has any let me know. There is one place I found that is selling copies of the 1978 version of the History. It is 52 CDs and costs $285.00. http://www.oldradioshows.com/network/hor&r78.html
---

"Jeff: Just finished a couple of hours on the KQV Website and thoroughly enjoyed my visit! Thank you for all your hard work."
... Larry Aiken (04/27/03)
---

"The mystery person in the very back of the group picture that Carl sent showing various KQV staffers is Chris Hood. He was a WDVE engineer.
I have looked and looked for that little KQV nugget I told you about in previous letters. Somewhere on your site you mentioned an old (late sixties?) promotion about the missing K from KQV. Well the station printed a flyer promoting the contest. It was laid out much like a newspaper and and a picture on the front showing Hal Murray "searching" for the K in the potted plants in front of the Studio A window. The station actually removed the K's from the outside signage of the street level studios. I can see that flyer and picture in my mind as plain as day, but I just cannot find it.
... Kenny Lee (04/27/03)
---

"Hi, This is Chuck Dougherty. I was the morning man and program director at KQV 1958-60. I have seen your web site and would like to give you the straight story of KQV's history.
... Chuck Dougherty (04/24/03)
---

"Ahhh....the good ole PAMS (jingles) series. I remember production engineers salivating every time they got a new package in. Please send my regards to Bob DeCarlo, I really enjoyed working with him in the morning shows; he was a real talent."
... John O'Malley (KQV News) (04/22/03)
---

"It's been interesting to go back in time and ... in some cases ... actually touch bases with some former KQV colleagues. It was a great experience. I left the station just as it was being sold to Taft, to become a member of the founding staff, as morning anchor, of AP-Radio (now AP Network News) in Washington. I was there from '74-'81, when I left for the afternoon drive anchor slot on RKO II Radio Network News in New York. I was with RKO until its sale in 1990. When The Gulf War (I) broke out, ABC recruited me for a temporary war coverage network. From there, I became a "utility anchor," rotating among ABC's various networks as needed. At the same time, I was afternoon drive news anchor at WABC-NY as well as Paul Harvey's vacation stand-in. I left NYC in '95 to return to my home state of Kentucky and an opportunity to develop a format concept on local radio (WVLK). That led to an opportunity to actually build, from scratch, a 50 thousand watt FM public radio station (WRVG) for a local college. Not only did we create a unique alternative format, focused on music and live in-studio performances, we actually launched a small public radio network," World Radio, " complete with a top- of- the- hour newscast that had, at one time, 26 affiliates across the country. In the end, it folded for lack of adequate capitalization by the host institution (Georgetown College.)
I'm now serving as Press Secretary for Kentucky's Lieutenant Governor, Steve Henry, and am contemplating returning to college to work for a Masters in Journalism."
... Tom Martin (KQV News) (04/22/03)
---

"Roy Elwell was the first KQV personality I saw through the window of their showcase studio. It was spring or early summer 1959, I was 6 years old and downtown with my parents for some Pittsburgh bicentennial related event. (For some odd reason I remember that two of the records he played were "Sleep Walk" by Santo and Johnny and "Mary Lou" by Ronnie Hawkins."
... WT Koltek (04/17/03)
---

"I used the search engine to see if there was any history of KQV's glory days, and there you were. I'm John O'Malley, and was proud to see my name listed. I was the newscaster first for Quinn, then Limbaugh (Christie); when Tom Martin left to go to Associated Press Radio, I took his place as morning newscaster with Bob DeCarlo. I wasn't there long however, before I ended up following Tom to AP radio in Washington, D.C. From there, I did three years at an ABC affiliate television station in Toledo, from there back home as morning newscaster and news director of WEEP-WDSY, and then I decided to change careers and have been with the Pittsburgh Post Gazette in Circulation ever since. Thanks again for the great memories!"
... John O'Malley (KQV News) (04/16/03)
---

"You've put in a lot of time and effort ... wow! I talk about the site a lot... its an amazing slice of broadcast history!"
... Don Kobiela (ooh ah, ooh ah ah, ah ah) (04/16/03)
---

""My Mommy listens to KQV all day long, why don't you?" The "jingle" I recorded for my dad (Ralph Beaudin) when I was about 4 years old! ... I'm chuckling as I read this. I recall my father taking me to the station and telling me what to say into the mike. I recall that every time it played on the radio, my mother would call for me to "shhhhh, listen".... my seconds of fame. My mother really DID listen to KQV all day long!"
... Jan Beaudin-Skinner, Scottsdale, Arizona
Jan is Ralph Beaudin's daughter. Ralph was KQV's first GM under ABC.
---

"Attached is a picture of the K.Q.V. High Hoopers. This pic came out of my 1962 North Braddock Scott Hi Yearbook. The High Hoopers played our faculty in a benefit game. Sorry that I don't have names to go with the faces. Maybe you can use this photo on your web site.
... Mike Bakin (04/13)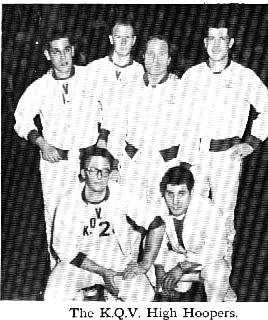 Thanks Mike, click on the picture for a full size look. Let me know if you can add names to the faces. Jeff
---

"Pittsburgh seems so very long ago... but my car does sport a 'Steelers' license plate on the front."
... Keeve Berman (4/13/03)
---

"I've enjoyed your site for several years. Thanks for all you work on it.
Tonight while going through a bunch of my old 45s getting them ready to sell on e-Bay, I stumbled upon a 45 I won from KQV one Saturday night in 1971. It was The Rapper by The Jaggerz. I kept the envelope they used to send it to me. A scanned copy of it is attached.
I still have tons of memories of KQV. Including seeing the KQV-IPs play basketball at Scott High School in Braddock.
... Tom Lacko (4/12/03)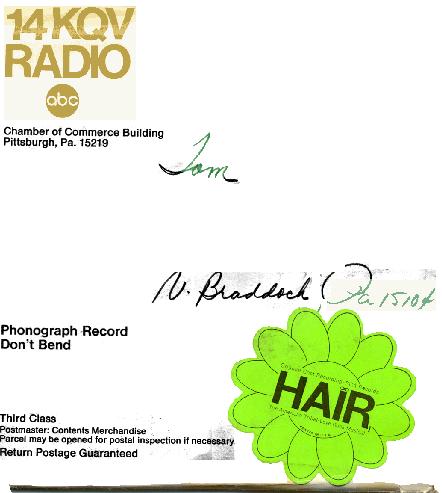 Click on the picture for a full size look.
---

"Thanks for the memories. I did forget how "frantic" radio was, back then. All the better to get everyone's attention! Stay in touch, if you ever get down to South Florida, give me a shout, we'll get together for lunch."
... Lou Janis (4/8/03)
---

"What a TREAT (For a WABC "fanatic", like myself) to hear "Bob-A-Lou" doing (as he called it) "Pace" Radio on KQV. Funny, hearing him use his WABC Series #30 jock jingle (but somehow I knew he WOULD). The recording itself (being from a microphone) takes me back to the days when I, too; used a microphone (who knew of a "line input" ?). Thanks for the "treat". Keep up the great work with your site.
... Neil Leibowitz (4/06/03)
---

"John Gibbs will always be remembered, by those who knew him well, as a very proud man who was both a highly competitive radio broadcaster and, as a husband and father, one who always cared very deeply about each member of his family. He enjoyed the fine arts and well prepared food, and carefully mixed gin martini's. He was a rare professional and personal gentleman, in each and every way!
... Mike McCormick (4/02/03) More of Mike's comments are on the John Gibbs page.
---

" I was dismayed to read about the death of John Gibbs. He hired me in my first radio job. Then it was WWSW-WPEZ. I did news for PEZ, was the "Z" lady. Then went on to do WWSW news, as well. John was a fine man. My name was Jane Clark at the time. I am now at WINA in Charlottesville, Jane Foy, hosting the morning show and a talk show, Charlottesville Live, Phone with Dick and Jane."
... Jane Clark Foy (03/31/03)
---

"John Gibbs hired me ... and Al Julius. He put me on the air as Capt. Bob. I have nothing but respect for the guy. He was at the helm of KQV at the end of that golden era. John had a great voice and was really hurt when ABC abandoned us to buy a station in Houston. I will certainly miss him.
... Bob Harvey (3/29/04)
---

"Good luck on your project Jeff. I think the web page is excellent. It's a tribute to your research and you should be very proud of the radio history that you are preserving.
... Bob Harvey (3/24/03)
---

"Well ... Turkey Man is alive and well. I'd be happy to write a piece about one of my most favorite friends. I purchased Chickenman while at KOIL/Omaha just before leaving for WLS, and made a big sales package out of it. Since it was a money-making venture for KOIL I convinced Dick Orkin to also send me all of the production tracks. So ... I ended up having everything that Orkin had ... except the BIG VOICE (who was Dick Runyan, the morning jock on WCFL where Dick was also the production king). Oh ... but I DID have a big and animated voice ... BOB WILSON. This is only part of the story ...
When Turkey man quacked ... I created a second radio "plaything" titled STEEL CITY SENIOR HIGH. This vehicle had a cast of characters larger than a broadway play. I even had guys at other radio stations around the country do "character voices" for the cast .... and most of the BIG major characters were modeled around actual people living in Pittsburgh. We really let it get a little "sleazy" from time-to-time and Gibbs hated those letters. Oh ... what fun!!!!!
... Mike McCormick (3/21/03) See the Turkeyman page for more details.
---

"I visited your KQV website for the first time in a great while. Man, it sure is comprehensive. Sure brought back memories, and it was wonderful to catch up with old co-workers and friends. I clicked in to look at the picture collection I sent you. In the shot of the 1972 studio, the picture on the wall to the right of the Master Control window is Jay Davis and his then wife. Did you realize he was in the Marine Corps reserves? Well, being so required him to have a buzz haircut. That certainly would not do for a 70's KQV deejay. So he bought a wig which he wore everywhere, even when playing in the Double Dribbler games. He had many an anxious moment and would ask during time outs "Does my hair look O.K.?"

Also in that picture is a format clock from Bob Harper on the top of the console for all hours but 6-9 AM. We only played 9 minutes of commercials in any hour, and KQV played a lot of music. After they switched Chuck back to mid-days and put me on in the morning (Summer of '72), KQV went back into double digit shares in all time periods. AM Drive went from about an 8.0 share to a 15 (old Pulse data). While KDKA was still in the high 20s, we beat them in adults 18-34, even in morning drive. I don't think Jack Bogut and Company were amused.
... Bob DeCarlo (3/21/03)
---

"I worked with Rex at WITH in Baltimore in the late fifties and early sixties. I was AM drive and he was PM drive. He was one of the funniest DJ's I ever heard. We became very close, and stopped the union from coming into the station. After I left, I lost track of him, and he later turned up at KQV in Pittsburgh. I was running BIG WAYS in Charlotte in the late sixties, and I called him and hired him for afternoon drive. He sent promos and I have his aircheck of his last night at KQV when he mentions he's going to Charlotte. He never showed, and I've been looking for him all this time. He has written several horror books and they're on line at FICTIONWISE.COM. John Long checked with that site, and they gave him Rex's ex-wife Carol's address. He wrote her only to find that Rex had a stroke, and is now partially paralyzed and in a wheelchair in a nursing home.
... Jack Gale (3/18/03)

---

"Wow ! What a treat it was to come across your site. Thanks for bringing back all those Pittsburgh memories of the '60s. (I live in Maryland now) Keep up the good work."
... GM (3/02/03)
---

"Jeff - finally located some old slides of my time at KQV. Although zipped, it is still a fairly substantial group. You are free to use or dispose of any or all as you see fit.
The list
Outside shot 411th 7th ave
DeCarlo on air
PD Bob Harper in his office
KQV Newsmen Bob Harvey and Tom Martin
WDVE master control .... the "Love tape" were played from here and replayed and replayed........
KQV News Director Carl Eckels
Staff Photo - Front to Back - Suzie Gooch, Program Sec./Tom Daniels, WDVE Producer/Claudia Jarvis, KQV Receptionist/Carl Eckels/Jenny Karish. Engineering Secretary, Tom Martin, Steve Conti, Master Control Engineer/ Bob Wilson/ Bob Harper/ Chris ( forgot last name) staff engineer.
KQV News Bronco
KQV Reception desk in Chamber of Commerce bldg. Actual light level!
John Summers on air"
... Carl Eckels (3/01/02) Thanks Carl, The Carl Eckels Collection is now on line !
---

"Great website. Thanks for a ton of memories of growing up in the 'Burgh. When I was in high school, I met Chuck Brinkman at a job fair held at the Civic Arena! He convinced me to pursue radio, and college, when all I thought about was finishing school and joining the army. Glad I took his advice. The most exciting intersection in Pittsburgh was Walk and Don't Walk!"
... Joe Berwanger (2/16/03) *** Joe went on to work at KDKA-TV, in sales, marketing, eventually becoming general manager. He is now gm of WDIV-TV in Detroit
---

"On the night of October 21, 1969, Chuck Brinkman and Jim Quinn hosted a show on KQV called "The Death Of Paul McCartney- Fact or Fiction". Does anybody have any tapes of this show? I remember the show vividly as The Beatles were and are my favorite band and the show aired on my 12th Birthday."
... Mark Hoffman (2/09/03)
---

"Hey Jeff.
Just found your site on KQV. Grew up in Westmoreland Co. and always had KQV on the 6 transistor AM radio in the 60's. Got this poster after having gone to see the fab-4 at the Civic Arena. Thought you might have it already, but could not find it on the web site. So, just in case I am sending you along this small version of it.
Great site. Will be back to rummage around some more."
... Dan Bard (1/03/03) Thanks Dan, the poster is on the site. http://user.pa.net/~ejjeff/poster.html
---

"I just discovered your KQV website (about five years late, it appears), and I've been fascinated. I joined WDVE as production director in 1973 (at the tender age of 18) and was a regular weekend jock there from 1975 to 1978. But I officially joined the KQV staff in 1975 when Taft bought the radio stations from ABC, and was made production director of the AM, too, as part of a consolidation effort (euphemistically referred to as a "bloodbath" back then). While there I am proud to say I produced the later episodes of Turkeyman, among many other projects. After leaving the radio stations in 1978, I came to New York to study acting, but soon returned to radio as production manager of NBC's The Source Radio Network. I left in 1982 to form my own Radio Today syndication company, and sold it (with my partner) in 1998 to the ABC Radio Networks, when I continue to serve as Vice President and Creative Director. My daily Today In Rock History feature, which I host, has been in national syndication since 1979. I love the website and I hope it continues."
... Dan Formento - Vice President/Creative Director - ABC Radio Networks (12/17/02)
---

"Jeff,
Thanks for all your hard work on the KQV site! While enjoying your site I remembered I had a picture of George from our WFFM, FM 97 days. He was quite a guy. I recently sent a WFFM composite, which included George, to reelradio.com. Hopefully they'll add it soon.
Again, thank you for your web site.
... Tom Lacko, WFFM FM97, 1979-1982 (12/03/02)
---

"Hey, nice site. Fred Winston's bio leaves out his time at WING, Dayton. Probably 66? to 68, just before KQV.
He's on the air (at the moment!) on WJMK and sounds great as ever."
... Paul Iams (11/22/02)
---

"Hi!,
Caught your web page and really enjoying it. I added your link to my web page (Great links for oldies) button. I do have something VERY RARE from KQV. I was a member of the Coca Cola Hi! Fi Club in 1957 i think. I still have the badge. Would be glad to send you a graphic."
... Jim Hurray (11/12/02)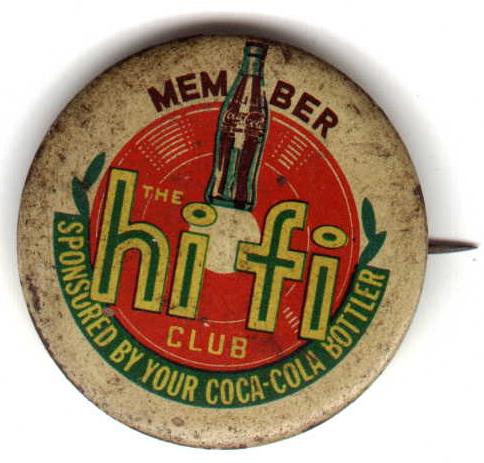 ---

"I wanted to drop you a note to tell you how much I appreciate your KQV website. You've done a good job in setting it up and maintaining it. Thanks.
Just a little detail: I grew up in Pittsburgh. As a little boy I listened to "Uncle Dave" on the radio. Uncle Dave did a radio show for children in the morning. It was Dave Scott. This was pre-1950. I was 4 and 5 years old. I didn't track radio call letters at the time, but I have to presume Uncle Dave was on KQV. Uncle Dave would call kiddies on the phone on their birthday and interview them on the air. In 1949, on my birthday, the phone rang and I had my 5 minutes on the air with Uncle Dave. When I was in my early teens I spent many hours watching at the window of the KQV studios. My first time there everything was on big transcription disks. No tape cartridges then. Jingles, commercials, news headline intros - all of it came from transcription disks played on big transcription turntables. Then the DJ would put a 7 inch 45-RPM disk on the same big turntable to play the music. During that time KQV would give away copies of their "Wax To Watch" - a 45 RPM disk that they thought would be a big hit. Listeners would send in post cards to win copies of the records. Dave Scott would draw postcards during his afternoon show. He had "Crazy Otto, the mad mailman" fly by in his airplane and drop the winning postcard. I won lots of those records. I even won a copy of Jim McLaughlin's theme song for his All-Night Satellite (12 midnight to 6 am) program. The theme was "Space Race" by the Allen Bradley Quintet.
I left Pittsburgh in 1961. A few years later when I was working as a DJ in central Pennsylvania, Greg Scott spent a few minutes in my studio. I didn't realize who he was until after he had left."
... John Abele (11/08/02)
---

I picked up a KQV Rock People Frisbee from Ebay.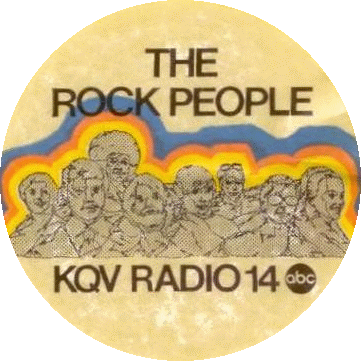 I e-mailed Bob DeCarlo to find out who each KQV staff member on the frisbee was. Here is his response. Jeff
"Sorry to be a wet blanket, but the pictures aren't of anybody. They are stylized renderings of imaginary people. It's the artist's conception of what we wanted the KQV audience to look like. Even the Rock People poster which we passed out had more of the same. In fact, listeners used to come up and say to us ... "Which one are you?" None of us posed for the sessions. The Rock People campaign was there when I came on board in 1971, and lasted for about another year."
... Bob DeCarlo (11/04/02)
If you have a KQV Rock People Poster, please contact me... Jeff
---

"FYI, I'm age 39. I'm a "former" radio DJ with 10+ years in the business. I've been out of radio since '94 but would go back in a New York minute. My primary occupation is as an I.T. Management consulting (yawn, boring).
I have crystal clarity of radio product happenings back to 1968 !
How did I find you? I was listening to a "5th Dimension Greatest Hits" CD & was listening to a 1971 release of theirs' -- Love Lines, Angles & Rhymes. I did an internet search & there you were high in the list. So glad to know that it was a top 10 hit -- if I was back in radio (I was a caucasian jock in commercial BLACK radio as a night / "Quiet Storm" DJ) I'd be playing it in my show.
Anyway, it's SUPREMELY validating to read a "playlist" on your website as if this 1971 hit is a "current". And a particular "thank you" for including the old news as if it was current (note "Ice Folly's"). Woah! Way back in 1971 !
My God. I can remember that year very clearly even though it was 31 years ago. Life was so simple then. I was only 8 but I have crystal clarity on the world happenings from 1968 (at the age of 5) forward.
Thank You for having the influence & courage to bring the VINTAGE KQV spirit to life."
... Christopher Pizanno, Alpharetta, Ga. (10/30/02)
---

"Your website is fantastic! What memories it brings. I grew up in the '60's, and I listened to KQV on my transistor radio faithfully. Never thought I'd hear the jingles or the ABC news sounder, but, lo and behold, I can now. And I dare 3WS to play some of those songs on those surveys. Thanks a lot."
... Don Maurer (10/26/02)
---

"I am sending you 9 photographs and the KQVIP interpretation of American Pie. The photos are of Jay Davis, Bob Wood, Chuck Brinkman, Fred Winston, Jim Quinn, an unknown, and three of my uncle. Feel free to copy or scan them and use them."
... Art Nestor (10/14/02) These wonderful pictures are on-line as part of the Arthur Nestor Collection http://user.pa.net/~ejjeff/kqvnestor.html ... Jeff
---

"Chuck Brinkman used to do ads for National Record Mart and I worked for them. He would often stop by the Main Store on Forbes Ave and talk to the Shapiro brothers who at that time owned the company. Ah the good old days."
... (10/05/02)
---

"I was a major listener of KQV. The site is Fantastic. I have one air check the DJ does not say who he is but what is said is 14K and it was the battle of the groups. at the time when two groups would battle it out like two boxers. I recorded tons of music off the radio from KQV and have the songs but when the air checks came on I paused the tape."
... Kevin Costello (10/01/02) Thanks Kevin, We'll have it on-line soon.

---

"I have read with about KQV in Pittsburgh with great interest. It must have been quite some station!!! It seems like it KQV really helped shape Pittsburgh with a unique sound. I'm from Rochester, NY and most of our top 40 stations during the same time period were boring but perhaps typical of local (programming) tastes. I've listened to the various KQV sound checks several months ago and just found the weekly top 40 play lists today. I must have looked at almost every one of them. Just coming across songs listed that I hadn't heard since those days brought back lots of great memories from my childhood. So thanks for the good work in collecting and compiling all of this great stuff about what must have been a legendary radio institution in Pittsburgh."
... Mike Curtis in Rochester (9/16/02)
---

"Thanks for maintaining a great site... I remember KQV from when I grew up in PGH-- it was a great influence on my adolescence. I especially remember Rod Roddy dressing up as a "doctor" in the studio window and handing out autographed tongue depressors-- WHAT A NUT!!! I live in Florida (the idiot state) now and keep sane by hanging on to nostalgia from the 'Burgh. THANKS AGAIN....
... Tom S. (9/13/02)

---

"It sure was GREAT to find your site - Thanks ! From the late 50's thru the mid 60's, I spent many hours at the corner of Walk and Don't Walk - standing there in the cold sometimes, other times sharing the space with a drunk - ha ha. KQV was a major influence on my career. Hours of standing and gazing into the Showcase Studios (and Newsroom), I knew I wanted to get into broadcasting.
In Junior High & Senior High school, I build and operated a micro radio station in my bedroom, published a Top-Ten sheet and held one record hop. At one point, we had 9 DJs - and a lot of fun. I still have all those 45's.
Two years at Penn Tech in Pittsburgh and got my 1st class FCC license. Spent 10 months at WHOF-1060, Canton, Ohio. (Engineering Dept.) Two years in US Army as an MP. Back to 1060 Canton and the call sign had become, WOIO, spent 2.5 years (Engineering Dept.). It is, and has been a struggling 5Kw, daytimer, now WRCW.
Then I spent 27 years with Cox Broadcasting in Miami, WIOD-610, WHQT-105.1 and WFLC-97.3 (formerly WAIA-97.3 & WIOD-97.3) - (Engineering & Production Dept.). Former KQV DJ, Bob DeCarlo worked at WIOD for a few years - he was damn good! - and a good guy too. Also ran into Joey Reynolds, here in Miami AND again later in NYC at WOR.
Now, for 7 years, in network radio - producing "Into Tomorrow" with Dave Graveline - www.IntoTomorrow.com We did a remote from the WOR studios in NYC - Joey Reynolds was itching to be a guest, but he didn't know squat about consumer electronics - the format of the "Into Tomorrow" talk show.
Over the next few weeks and months, I hope to find some old KQV materials to send to you.
I remember a huge contest they ran about 1961 - - "Who stole the K, from KQV?". The K was removed from the side of the building, which was gold, ribbed aluminum, on the first floor level. They left the QV mounted there. It made our school happy - - because we went to QV, Quaker Valley in Sewickley/Leedsdale.
Of all the times I was there at the windows, only once did I find the curtains closed (between the 2 layers of glass). I guess the DJ wasn't feeling well that day - or he knew I would be there - ha ha."
... Steve Zeigler, Miami, Florida (9/08/02)

---

"I saw the article in the Post Gazette and wondered if you would be interested in any copies of ads, promotions, etc. My husband, Garrett Blanchfield, who died in 1986, worked as Sales Promotion Director from 1965-1968 for KQV. I have rate cards, buyers guide, promotional brochures, presentations for advertisers and selling the station generally. My son wants to keep the originals, but I can copy everything if you are interested. There's very little about the DJs, though.
If you are interested, please let me know and I'll get everything copied."
... Lucy Blanchfield (9/05/02)
Thanks s much to Lucy and her late husband Garrett Blanchfield. The Garret Blanchfield collection is now on-line.
---

"As a fellow Pittsburgher who grew up with some of the best radio stations... I'd like to commend you for keeping the memories alive. My only disappointment is that I didn't win the Summer Yellow Mustang that contained John Lennon's Peace Medallion. Having an opportunity to work one of the last AM Top 40's in the country/13-KHIT, Tucson, (signed off Labor Day, 1987) My only salvation of keeping AM music radio alive is Radio Disney. Here's to the Groovie Quevie!"
... Mark Roman (9/03/02)
---

"Thanks for the memories! Great website! I was at KQV around 1971-73 when KQV sponsored a Junior Achievement radio show on the weekends. I worked with Bob DeCarlo and Tom Martin. It was a fantastic opportunity for a high school teenager. If you want to know more details or have any questions, please email me as I would be glad to provide any assistance. Have you by chance been contacted by a guy named Jack Rodney? He was in my JA radio group and also a Beatles fan. In fact, the Sunday edition of the Pittsburgh paper even did a feature article on Jack regarding his Beatles knowledge and collection back then. The group consisted of about 8 members all interviewed and individually chosen by JA and KQV as my memory recollects. We recorded the show while sitting in the big window! By the way, you may also want to track down information on Tom Martin. He went on from KQV to have a nice news broadcast career on a nationally syndicated level/news feed level. I also made acquaintance with Chuck Brinkman and would have to give Chuck credit for inspiring me with my love of pop music and the radio. Many times as a young teenager I would call him in the early morning during his show and we would chat a bit between songs. Oh, and I also won tickets to the Elvis concert at the Arena through KQV and remember sitting the Bob DeCarlo who was our host for the evening."
... Evelyne White (8/28/02)
---

" I haven't had time to peruse your entire site, so this may be in there, but do you remember a river race between Jim Quinn and Steve Rizen? I think they paddled canoes down the Mon for a couple hours."
... Dean Amrhein (8/25/02)
---

"I read about your interesting web site in the Wednesday P-G article. One note to add to your top 40 KQV DJs. Perry Marshall was the DJ there in the 70's. He filled the 10-2 slot and worked at the station with Jeff Christie. I remember him as the WTAE morning man in the 50's.
Perry is still living in Pittsburgh and enjoying retirement from KDKA. He has been a neighbor and dear friend of mine for the past nineteen years."
... Rose Fabiani (08/24/02) We've got Perry listed on the site. Perry was one of the earlier Top 40 personalities in Pittsburgh. He was at WEEP in 1958. He was also a talk pioneer at WJAS in 1968 during their talk era. ... Jeff
---

"Thank you for your efforts in regard to the KQV web-site. I stumbled on it last week and now see the PG article on it today. I grew up in Brentwood but left in 1980. The archives and information are a true blessing. I read where your girlfriend threw away the old surveys. Our housekeeper did the same thing to me in the early 70s. I had all the surveys from 1964 on. I just about died. Thanks again for bringing many joyful memories to a Pittsburgher transplanted to Cajun country in Lafayette, La.
P.S. Daddy Dave Scott's countdown & Brinkman's end of year countdown were "must-hear" radio. Special thanks for those archives."
... Fred Davis (08/21/02)
---

"Great site! I remember taking a bus to Pittsburgh many times from Carnegie to peer into the studio windows of KQV in the early to mid 60's. Al Julius was my favorite. I remember they had a small window that looked into the newsroom and I got my first glimpse of This ........ is Al Julius."
... Mike Hanczar (08/23/02)

---

"Great memories! I saw some gems on the top 40 chart that I had forgotten all about. I'm going to try to find them on WinMX so I can hear them again. Isn't the internet great?"
... Dean Amrhein (08/23/02)
---

"Thank goodness the Post Gazette wrote about your site, or I wouldn't even have thought to check to see if such a site existed! I really couldn't believe my eyes and ears ... there's enough there to keep me busy for the rest of the year!
I had collected every KQV survey (some KDKA too) from 1966 until they stopped producing them but did the unthinkable and threw them away in 1979 during a bout of insanity when moving from my apartment to my new home with my wife (who I figured would think I was crazy for saving such stuff). I've regretted it to this day. Thanks for sharing some of them again.
I was such a fanatic about these charts that, when they eventually only produced the poster that hung in the record stores and not the survey sheets themselves, I would stand by the poster, write down every song and position, and hand write them myself in the same format as the survey sheet. Yes, it was a sad day when KQV "stopped the music".
I have tons of reel-to-reel tapes that have sat on a shelf since the early 70's that contain songs from that era (late 60's too). I don't know how many of them contain aircheck material. As I recall, I tried to just get the song in with as little interference from the dj as possible. Also, KQV didn't come in well in Westmoreland county at night when I did most of my taping so I suspect there's plenty there from WCFL, my favorite night-time station of that era.
Thanks again and I can't wait to visit all the areas of your site."
... Bill Owens - N. Huntingdon, PA (08/23/02) You're not the only one who copied down the surveys from the store. Some of us begged for the poster when the new one came in. In the later years of the station when printed lists were no longer available. I would go down to the window in the middle of the night and read the list from outside and scribble it down. Then I would type it up when I got home ... Jeff
---

"I just read that wonderful story about you and your KQV tribute site that appeared in the Pittsburgh Post Gazette the other day. Nice going!!
It's refreshing, heartwarming and reassuring to see good things happen to good people."
... Bob Dearborn (08/23/02)

---

"My father is Bernard Liff of Liff and Justh, the architectural firm that designed the KQV offices with the "glass bowl" studios. I was 13 when it opened and I got to meet Henry DaBecco, Roy Elwell, and Jim McLaughlin. Thanks for saving the old airchecks. I always thought the radio jingles were as nostalgic as the music. I guess KQV sounds kind off corny compared to the packaged CHR formulas of the CC's and others. I later moved to Richmond Va which was the home of another "legendary AM rocker", WLEE, known as 'BIG LEE" and its answer to Jim Quinn-------"Shane". Ironically both Quinn and Shane left to replace Dick Biondi at KB in Buffalo.
Anyways --- thanks for the website."
... Ricki in Tampa. (08/21/02)
---

"A good friend of mine and former KQV employee Bob Bartolomeo sent me a copy of today's column in the Post Gazette. See? Hard work WILL make you rich and famous.
Good Goin', my friend."
... Bob DeCarlo (08/21/02)
---

"I read about your KQV website in the Pittsburgh Post Gazette this morning - I had heard about this when you first started up but didn't have a computer then, and when I did get one I tried to locate you but was always unable. I have a computer at work and I don't have time to check the whole site out today, but will in the coming days when I have a break. It looks very interesting from what I have seen. I loved KQV and listened to it usually on a little red transistor radio I received one year for Christmas, so you can imagine the sound quality of the songs then! Now I have all my favorite oldies on CD'S, and go anywhere they are playing oldies in Pittsburgh (which is a good many nights of the week, since Pgh. is the capital of the doo-wop and oldies now. I also listened to Porky Chedwick on Sundays. So I am a great fan and will certainly enjoy reading everything on your site. Keep up the good work."
... Judy Webster - the Doo-wop Queen in Pgh. (08/21/02)
---

"Wow! You've created a great website for KQV. I'm sure to return many times.
I grew up in Bethel Park and Gregg Scott was one of my class mates in high school. I did not know of his death until seeing it on your site (in Dave Scott's obit.)
I remember in our Junior or Senior year, Gregg got to do some on air work at KQV. I think it was "summer vacation replacement" for the overnight slot dj. We "mere mortals" were all pretty impressed.
KQV didn't have the strongest signal and sometimes it was difficult to receive at night on our transistor radios.
The Pittsburgh radio scene has sure changed. Personally, I think it was best in the '60s with KDKA, KQV, WCAE and the others featuring the rock n' roll music of the day. I am sad to hear "talk radio" on those frequencies now.
Best of luck to you with your on-going project."
... Phil Fleming, BPHS Class of '65 - Ligonier, PA (08/21/02)
---

"Really enjoyed the KQV website it really brought back some memories!"
... Larry Yamron - IBM Global Services - DFS West - Wexford, Pa. 08/21/02
---

"Just read about your site on the PG online version. Thanks so much for this wonderful site. You and I are the same age. I grew up in Sq. Hill with a transistor at my ear tuned to the "fun lovin five", when it was not tuned to Bob Prince and the Buccos! There is rarely a week that goes by that the "go go team of the fun lovin five" jingle does not run through my head! Today is a busy day at work, so I will have to dig through your site tonight when I get home. And I am really looking forward to that. Thanks again for the memories."
... Jeffrey P. Hausman - V.P. Marketing & Client Services - Howe Marketing Group (08/21/02) Those great PAMS jingles were one of the first things that really drove me to KQV. ... Jeff
---

"Thanks to an article in the Post Gazette I found your website. Thanks for the memories. Although I no longer reside in Pittsburgh, I remember standing in front of the studio watching the radio shows. I was pretty young back then (10 or so) but my last memory outside the studio was of Sonny and Cher singing "I've Got You Babe", with a swooning crowd mesmerized listening to the record. Those were the days!"
... Dan Micklos - Naperville, Illinois (08/21/02) I'd love to know how many of us that used to hang out by the window at the corner of Walk and Don't Walk were there at the same time. ... Jeff
---

"I too, grew up listening to KQV. Moved south as a teenager, and eventually got into radio in high school. Been there ever since. The old days of KQV and WAMO, and of course KDKA w/Bob Prince. Man, I haven't thought of this stuff in 30 years. Thanks again for the great site."
... ex-Pittsburgher- David Griffin Mt.Lebanon (08/21/02)
---

"I am very impressed by the wonderful KQV page. I grew up in the 1970s, and was a loyal listener. KQV's playlist was phenomenal, and sorry to say, nothing like the stations of today. The Carpenters, The Stones back to back? My love for all genres of music is due in part because of KQV's wonderful playlist.
I have no memorabilia, but I do recall in NRM stores getting free little index cards of the weekly Top 10 with the lyrics on the #1 song on the back. Not sure if this was a KQV item, but...
Sounds like a wonderful ongoing project. I am a Beatles collector. If you need any assistance with gathering info for the site let me know."
... Larry Zalewski - Mt. Lebanon (08/21/02)
---

"I grew up listening to KQV. I now live in Minneapolis and ran across your website. It brought back some great memories when radio was great ... Thanks"
... Dan Riser (08/21/02)
---

"As you can tell from the address, I live around Harrisburg, and work for the State. Needless to say. I too grew up in the Pittsburgh Area (right down over the hill from you in Verona) am about your age (53) and was a faithful listener of not only KQV, and KDKA, and later (mid 70's) WTAE, the Nifty 1250. Since, now of course, a fan of yours from the WWKL (KOOL) days 10 years ago, and you and your brother on the Senator's TV games years ago. It takes a Native Pittsburghian, to appreciate your efforts here.
Anyway, I wanted to call your attention to today's Pittsburgh Post Gazette, and especially the article about you, that I saw on their web site. Excellent. And thank you for the update to your web page, which I had previously saved. Really great re-living the memories.
... J.T. Gould (08/21/02)
---

"It was GREAT to hear Chuck Brinkman and the 60's @ KQV again!"
.... Bob & Dottie Miller (08/21/02)
---

"I just saw the article on you in the Post Gazette (on line) about KQV. Pretty cool that you're doing that. KQV
was THE station for us in the 60's, while we were growing up in Penn Hills. I don't know if you remember this tidbit, but when Dave Scott got flustered on his show he would change his intro and say you were listening to the "Joe Jaboney" show.
... Larry Quigley (08/21/02)
---

"Great article in the Post Gazette on your KQV page!"
... Clarke Ingram (08/22/02)
---

"I saw the Post Gazette article about your website yesterday. I haven't checked it out yet but I'm going to. Every Friday after school I'd rush home to check out the new Top 40 (?) for the week. I used to buy a lot of records at the Northern Lights shopping center in Baden. There was a great record store there (Turk Brother's?) and Grant's and Kreske's sold records too. I made sure to pickup the weekly surveys from KQV and WIXY 1360 and I saved all of mine! I also have the KQV interpretation of American Pie. I say this just to let you know of another enthusiastic fan of KQV and the music of the times.
This might interest you somewhat. My uncle, Oscar Nestor, had a Saturday or Sunday evening program for a while on KQV discussing colleges, occupations, etc. I have got to dig out all my stuff and try to refresh my memory. I guess I can do some of that on your website too. Uncle Oscar did get me a set of autographed photos of the DJs. He's still alive and living in Florida.
Well, I have got to check out that website. Thanks for making it."
... Art Nestor in Zelienople (08/22/02) Doctor Nestor's career line was a Sunday night staple in the 70s on KQV. I was on the show one Sunday night asking Bob DeCarlo about careers in radio. It was the beginning of a long friendship with Bob.
---

"What a great read in this mornings PG about the old KQV and the top 40 days. I loved it and still remember it fondly. (albeit I didn't know that Christie turned into Rush- how frightening!!) I still have all the KQV tunedexes from probably 1964- 1970 - are they worth anything??? The other unbelievable change since then is ... remember when Jim Quinn was a fat, hippie DJ chasing girls at Shaler High and ready to ride a pig down the center of the street if Neil Diamond's "I am I said" never got to #1. It only made it to #2. Now, he's the most conservative baby boomer since Rush. What gives???
Weren't any of these guys affected by the environment of the 60's?? Go figure.
By far my top KQV memory is the night, we were working on the senior Homecoming float, and Chuck Brinkman got on and announced "Paul McCartney was dead." The whole night they played clues from the Beatles albums to figure it out. That was groovy QV.
Good work. Thanks for the memories"
... Dan Wagner (08/22/02) The night that KQV discussed the "Paul is dead" rumor is a night many of us will long remember. Jim Quinn had Beatles expert Dan Kelley (from DVE) as his guest and the evening was spent playing songs backwards, taking phone calls, and discussing all of the "slues" the Beatles left on their albums that Paul had died. ... Jeff
---

"I'm 67, but grew up in PIT. I remember Art "Your pal" Pallen. I think he was on WWSW or KQV. About 20 years ago, i was driving a new van for our church, from Indianapolis to Los Angeles, 7 had the radio on. Too my surprise I picked up a Pitt station, & there was. Perhaps you can help me, I have been trying to find a cassette of Rosey Rosewell doing a Pirate game (he preceded the Gunner, & Joe Tucker, Steeler announcer off my era. I have lived in CA since 1959, but am a lifelong Steeler fan. Enjoyed your article in P-G web site In '04 hope to be back for my 50th reunion, West View class of '54 That too is long gone."
... Herb McFarland, Brentwood, Ca. (08/21/02)
---

"As being one of your fans of the website I wanted to congratulate you on the article in the PG. I hope it means more people will visit the site and continue to make contributions to it. I can't believe you have all the weekly playlists for the 60's and 70's. Their great fun to see and to check out those certain songs that were Pittsburgh hits that never were nationally successful. Hopefully more can be added to the WTAE/96KX/13Q sites. Not to make more work for you but one can't forget WPEZ's days in the 1970's with Bob Pittman, Jim Ryan and Striker
McGuire!"
... Brian Wolfe - WKYE Johnstown, Pa. (08/21/02)
---

"Just read your article about the KQV website in The Pittsburgh Post Gazette and noticed some on air names missing. How about Rod Roddy, who has been on The Price Is Right for who knows how long. Henry D. Rod was a popular DJ in '60 or '61. Henry DaBecco was a good one too. "Jolly Jim McLaughlin" was on from midnight to 6am. Steve Rizen was a morning DJ in the '60s. There was another guy that did the sports and had a trivia hotline, that was sponsored by Regent Pop. His name escapes me but he was on well into the '70s. Do you remember the KQVehicle? It was an amphibious car they used to drive into the river and show it off on public outings. KQV was probably the first radio or television station that had a helicopter to report traffic. I know I am forgetting a few other names but sooner or later they will come to me and I'll send them to you. Every fall KQV would sponsor the Apple for the Teacher Day. Students would send in their favorite teachers name, and if their name was drawn, the teacher would receive a bushel of apples. They also had a contest to have people put the letters KQV, as big as they could make them, and display the sign in their front yard. If KQV spotted your sign, they would pay you $25, and put your name on the air. Cool! And how about all the Beatles trivia, concerning the rumor that Paul was dead, playing records backwards and such. That was a long time ago when I was a teen in the early sixties. So, that was my 2 cents worth of trivia."
... Jim Hirsch, Bethel Park, Pa. (08/21/02) These are some great memories of KQV. You'll find a picture of the KQVehicle on the John Rook page. ... Jeff

KQV Apple for the Teacher Jingle
---

"Just wanted to say that your KQV web site brought back a lot of memories for me. In the late 50's and early 60's I also was one of those individuals that used to press my face on the window of KQV at the corner of walk and don't walk. Chuck Brinkman on the all nite shift was my favorite.
I created a web site of the high school that I graduated from in North Braddock (Scott High School) and I hope you don't mind that I put a link to your web site (KQV) on it. The web site address is below.
I know that all of the alumni that visit my site will be on your site once they see the link. I started this site in April of 1990 and have over 32,000 hits so far, so I'm sure that you will be getting some visitors.
Great web site, Jeff. Keep up the good work."
... Mike Bakin - Class of 1962 - Scott High School (08/21/02)
Web Site: www.scotthischool.com
---

"My father has returned to the Pittsburgh area after living and working in radio in California for the past twenty years. I have forwarded this site to him and asked him to get in touch with you. Great idea. You need a copy of the 13Q top 40 sheet which was distributed in the late 60-s at area music stores. This sheet listed the top DJ's photos and top 40 listing. Of course I collected them each week (with my dad's photo on them) and passed them out to friends. Maybe you can get a reunion of these men and women together. Thanks for the memories."
... L.W. Weller (08/21/02) L. W. Weller's father is a former KQV and WTAE Personality. On KQV he was Tom Lee. He used the name Tom Lee on WTAE. ... Jeff
---

"Just wanted to let you know that I won a trip to Cleveland on August 14, 1966 from KQV. I still have the ticket stub, the stadium booklet, and the official notification letter from KQV that I won the contest. brings back a lot of memories!!! I just found you website in the paper on Wed eve. I will be checking out a lot of your website the next couple of months & I will pass it on to many of my friends. Thanks"
... George M. Dzvonyik (08/21/02) Look for copies of some of these items on-line soon. Thanks to George. ... Jeff
---

"I found this site by looking up CKLW. Why I was looking for CKLW I can't remember. But this site, and the other station sites that are listed, is about the most fascinating thing I've heard in a long time! I'm amazed that this stuff exists! Close your eyes and it's 1967, or '68, or '69. I love the oldies and hearing the music and commercials as they were played back then. It is a sweet treat. And it causes such yearning for good radio with real talent that was fun to listen to. I was just a single-digit aged kid in the late '60's but my brothers listening to KQV, for we grew up and lived in New Castle (live in Mansfield, Ohio now), as some relatives do still. About these airchecks, are they tape recordings that were made by listeners?"
... Dave Taurus (08/08/02) The sources vary. Some were made by the jocks and sent to me. Others were made from listeners who saved these tapes over the years. ... Jeff
---

"I''m currently attending Point Park College here in Pittsburgh majoring in Radio Broadcasting. Right now, I'm an intern in production at KQV radio and love your website because it lets me see how KQV was before I was born. I love history, especially Pittsburgh radio station history, and love to listen to how radio used to be here."
... Charlene Gentile (07/04/02)