John Rook
"I was the music director and the program director at KQV 1963-1967, I did invite input from Chuck Brinkman.

Our nightly "Disc Derby" also contributed to our decision for adding new music ... the artist were not identified and hopefully each record was judged by the listeners on the musical merit ... each record was brand new ... never heard elsewhere ... those with the most votes and continued requests often were added the next day ... we didn't wait a week.

Music excitement was the key to KQV's success ... and we also paid attention to the Bill Gavin report out of San Francisco ... often telephoning Gavin for the days music information ... not waiting for the mail to deliver the information.

We were very much aware of how National Record Mart would hype a record in sales... so paid very little attention to sales information from that source. In fact, they often complained that we were playing records they didn't have in stock ... when in fact ... they would not buy records without getting a "deal" from a manufacturer or distributor ... National Record Mart often got airplay from Porky or Mad Mike, usually on records they had bought for a "deal" ... a thousand free for each thousand they bought. We stayed away from most of those records ... and they didn't spread nationally ... so guess we were right even though National Record Mart would scream and moan we were not playing the hits. Until I arrived at KQV ... the Shapiro Bros ... owners of National virtually controlled all music sales in the market. We learned a lot about their practices from friends at Fenway Distributors in Pittsburgh and Mainline out of Cleveland.

Clark Race (KDKA) broke "Hanky Panky" by Tommy James and the Shondells ... KQV broke almost all the others. "Memphis" ... Johnny Rivers - "Walkin' in the Sand" ... the ShangriLa's ... The Vogues ... dozens of others broke on KQV ... who many stations nationally watched for input on what to play."
Jim Carnegie
"Under my PDship I did not follow the norm but played what was best for Pittsburgh and KQV. I did see record promo guys once a week and heard their pitches and when a hot record that my gut said, "Hey this is us ... or this could be fun ... or it is different.." I went on it. Example:

1. "Life is a Rock but the Radio Rolled Me" was brought into me by RCA head of promotions Ray Anderson, a Pittsburgh guy, I listened and put it on. This lead to many cuts of "Life is a Rock but KQV Rolled Me"
.
2. Another is "Rock the Boat", went million seller. Liked it and the beat was solid.
I did look at the music trades but local phone and retail were my indicators of when to pull a piece rather than add.

Unlike our sister station WABC and the late Rick Sklar and the policy is they didn't play it until it became a hit. This was a problem between Sklar and me during my stay at KQV and years after.

Record guys tried to play 13Q against us. They would say, Tanner at 13Q is on it. I said, "I don't care."

I was music director under Mel Phillips and when I became PD my music director was the late Jay Davis. The music director was to gather the in-house research from phones and retail and spend time with the record promoters. It wasn't brain surgery.

National was just that National and played very little with me professionally. I was interested more in what was happening in similar markets and smaller markets. What was selling and what the rotation being given to new song. I would call and talk with PD in Youngstown, Johnstown, etc. to get their input. But for the most it was my feel for the city and people.

Local sales and phones were the heart of the beat. These were the people of the Steel City and surrounding areas that helped mold the decision process. They were the listeners."
Mike McCormick
"In any market that sells "recorded music" (I will still call them records) ... you can probably define the LOCAL top 10 sellers within reason. . The first five are generally solid numbers and the last five will vary a bit according to sectional demographics. The 11-20 sellers start to tie-up the lower you go, i.e. there may be five records tied at #17. I usually looked at requests and other similar markets for any strong confirmations. I most often used my personal opinion.

Below the top 20 ... local research is useless. The universe is too small, even in the large markets. And ... it doesn't really matter because most stations will have impending hits going UP the list and descending hits coming DOWN the list. This factor usually exceeds ten (10) positions. 20 hits is enough if the format also includes meaningful degree of new music, recurrents and Gold, of any variety..

Historically requests are just not truly reflective of any records popularity or lack of it. If requests ARE a factor in music research ... capture age, sex, and zip code as a bare minimum; a full research questionnaire should should be developed and made available for any phone requests. Confirm the data ... and place in in a database for further/additional use, if any. Frankly ... requests are merely "ear candy" for the caller (and their friend[s]) ... plus they, hopefully, got to talk with the jock!

Music research in Pittsburgh was a bit difficult. Most, if not all, of the major/usable record shops were all under the same ownership. As such ... the firm had central purchasing and bought in volume. Many times some hits weren't even purchased. Often times all purchases we held for poor prior payment.

The station would do a "weekly local survey" toward the beginning of a week ... work on the data until the new playlist was developed during the mid-week then finalize and release at toward the end of the week

During the development of the local list, the national numbers (Billboard and Cash Box) would be prepared to support or correct any/all local researched numbers. The music director and assistant would determine the rankings and add any suggested new material for consideration

On various days and times during most weeks, local/regional/national record promotion personnel would visit and present any new materials for KQV consideration

In the beginning of my tenure, I would review all materials prior to the list being finalized. This procedure helped me get a feeling for local popularity and the pockets of the marketplace in general.

We did not use a committee. Both the music director and assistant were thoroughly familiar with the marketplace and had productive professional relationships with members of the record industry as a whole

We did sign weekly affidavits of our combined work to then be stapled to the original research and resultant playlist.

MUSIC DIRECTORS/ASSISTANT:
* Chuck Brinkman - Music Director
* Dan Kelley - Assistant Music Director & Researcher
* Chuck had been in the marketplace for several years prior to my joining KQV. He also had been MD for a majority of those years and was considerably experienced in this job. I do not remember any serious differences of opinions we might have had between one another.
* Dan Kelley was also a bright and serious employee and was extremely pleased with his assignment and showed his appreciation by the quality and on-time-deliverence of his weekly work. He was also given other responsibilities in different station areas.

Local numbers pointed us to a wide direction most of the time. But sales were so small and varied on a week-to-week basis, there was not much reliability for true accuracy or trend analysis that could be considered stable. It seems there were a couple of suburban stores that offered us the very best data. Most of the numbers, if I remember correctly, were mainly used to support the top 10 rankings and were also helpful in the lower 10 positions. I do not believe we used many local numbers for the 11-10 hits. As a percent of total I would think local would have been 50% of the top 10, 25% of 11-20 and maybe 10% of the remaining slots.

National numbers strongly filled in for lack of sufficient/usable local research data. It was additionally important to us due to the fact that all numbers were a product a very large national universe. All "wobbles" and/or "prejudices" were wiped out by the sheer volume of numbers ... the smoothing effect. Probably 50% + for the top 10, 75% for 11-20 and 80/90% for 21 down.

Although we promoted concerts and used artists in a wide range and variety of promotions (i.e. Bridal Fair) the availability of artists were not a consideration for airplay."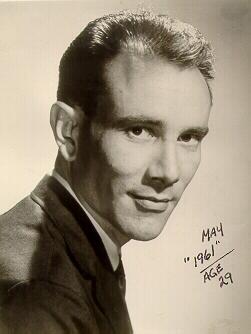 Mel Hall
"In late '61, a couple of days after I started at KQV, Larry Aiken, one of our DJs, asked if I was going to pick the music or would he continue as Music Director. Larry, a very bright guy, was really into picking and programming music. He had a great ear, recognized trends, had a wonderful track record and excellent rapport with the music industry and promotion people. I said "Okay, You're the Music Director, please
continue".

Prior to my arrival, KQV had been using established sources to report on local sales and requests in the greater Pittsburgh area. Such was the basis of the KQV play list from number 20 to number 1.

Number 21 through 40, plus the 'picks to hit', were pretty much the stuff that was either going down, or coming up. And, from time to time, an occasional 'guess' based on Larry's intuition.

This 'intuition' led Larry to program Ray Charles' "I Can't Stop Lovin' You" (from Ray's LP album of country songs), as a KQV Pick Hit of the Week. After a week or so on KQV, requests for the song as a "single" were so impressive that the record company, ABC Paramount, was more than encouraged to release "I Can't Stop Lovin' You" as a 45 rpm single.

I recall the day Larry told me he wanted to make the album, and specifically, the song
"I Can't Stop Lovin' You", the KQV Pick Hit of the Week. He just flatly stated, "This song is going to be a giant". It was.

Larry managed the information gathering and compiled the weekly playlist. He'd go over it with me, then we'd put it on the air.

Both Larry and I would 'network' with other PDs and Music Directors regarding sales and trends in other parts of the country.

We'd both take calls from, and make calls to; record industry executives, promotion men as well as PDs, Music Directors and DJs at other stations. Larry, much more than me.

Conversations were generally an exchange of promotional ideas, current musical trends and specific popular records. We'd talk with other PDs, such as Sam Holman at WABC, New York, or, Gene Taylor at WLS, Chicago. Perhaps Chuck Blore, at KFWB, Los Angeles. It was fun and we'd gossip a lot.

The availability of an artist had nothing to do with music selection during my time at KQV.

Both Larry and I would keep an eye on the national charts, comparing them to local sales and requests.

Occasionally, Larry'd see a trend happening nationally, yet, something that was late in coming to Pittsburgh. Larry would generally go with it on the KQV playlist. I don't recall him ever being wrong.

All considered, KQV's Top 40 Play List reflected the taste and preferences of the Pittsburgh radio audience. It was compiled and developed from local sales, station phone call requests, as well as in-store requests. "