Todd Chase was hired by John Borders and joined KQV July 31, 1968 from KOIL in Omaha, Nebraska, taking over the 7 - midnight slot from Jim Quinn.

Todd moved up to noon - 3 in late 1968 when Kris Stevens joined KQV (also from KOIL).




Todd's radio career started while in high school. In 1959 he attended Brown Institute of Broadcasting and Electronics. After graduation, he got his first dj position at KWKY in Des Moines, Iowa. He attended Drake University for 2 years to further his education and then moved on to KOIL where was for the 4 years before moving on to KQV.




Todd left KQV in March, 1970 to work in Miami at WQAM and WFUN. Todd was at JB-105 (WPJB-FM) in Providence in the mid - late 70's as afternoon host as well as program director. Todd returned to Pittsburgh as program director at 96.1 WHTX. He has since been in radio ownership in Leavenworth, Kansas and has worked in Christian Radio at WAY radio in Jacksonville, Florida.


Todd giving away prizes in KQV Marvelous Money Machine Contest in 1969



Todd at KOIL in Omaha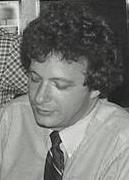 Todd at JB105 in Providence

Todd is now retired and lives in Jacksonville. Florida. His company, The Neeck Trust, has invested in three radio stations in Alabama. He's also doing spots via the internet for the stations.


(click on cart to hear Todd Chase KQV Jingles)
(requires real audio)