Mike McCormick came to Pittsburgh in September, 1968 from WLS in Chicago where he was Production Manager. Mike had served as Program Director at legendary KOIL in Omaha before moving to WLS. Mike succeeded John Borders as KQV's Program Director. Mike helped move KQV from the 60's into the 70's.

While Mike was at KQV, many legendary personalities joined his staff. Fred Winston came on board from WKYC/Cleveland. Gary Gears joined from Armed Forces Radio in Vietnam. Kris Stevens joined the KQV staff from KOIL. Harry West joined KQV from WARM in Wilkes Barre. Harry "was our new AM Traffic Time on-air personality ... who was Harry West, of the Harry West Show. I liked Harry because he had a natural feel for radio comedy .... and he really enjoyed having fun on the air. An extra and unexpected asset that came along with Harry, was that Harry sounded like Pittsburgh". Harry became papa to a radio crafted version of the then ... widely popular, NBC-TV show ... LAUGH IN. It became #1 teens and 18-34 men and women. His total 6am-10am ARB ratings were consistently #1 in Pittsburgh ... only KDKA had larger ratings .... 65+". And Jim Quinn returned from Philadelphia.

| | | | | |
| --- | --- | --- | --- | --- |
| | | | | |
| Fred Winston | Gary Gears | Jim Quinn | Harry West | Kris Stevens |
It was during Mike McCormick's time at KQV that the Fun Lovin' Five would become the KQV-IP's. "The phrase, to me, was so obvious that I remember wondering WHY it had not been employed in KQV's earlier station slogans. I believe I first used it in a Thanksgiving promotion wherein we awarded 114 turkeys to our audience(s) for their festive Thanksgiving Day family meal. I used Jed Clampet's song from the, then very popular, Beverly Hillbillies TV show ... and worked the KQ-VIPS' into the lyrics (Bob Wilson sang it -- I think) somewhere before the ending lyrics ... "114 TURKEYS THAT WE'RE THANKSGIVING YOU!"
And of course there was Turkeyman ! That wasn't all, after Turkeyman, Mike "created a second radio "plaything" titled STEEL CITY SENIOR HIGH. This vehicle had a cast of characters larger than a broadway play. I even had guys at other radio stations around the country do "character voices" for the cast .... and most of the BIG major characters were modeled around actual people living in Pittsburgh."
The sound of KQV was changing during this period. PAMS Jingles were still a staple of the on-air sound, but the long jingles of the past were replaced by Aca Pella jingles and Grid Packages. One of the coolest jingles ever on KQV was the KQV Power Play Jingle based on the Wide Trackin' Pontiac commercials.
KQV promotions during the Mike McCormick Era included cash giveaways like the Marvelous Money Machine, the KQV Bill Payment bank and Stop the Music. Plus a motorcycle giveaway as KQV Kawa-Socks-It-To-Ya. Also during this period the KQV Bridal Fair began. Every year beginning in 1969, the KQV Bridal Fair was one of KQV's bigger promotions. The KQV Shower of Stars concert series evolved into the KQV Music Festivals.
Mike was born July 7, 1933 and passed away in Austin Texas on January 26, 2018.
Mike McCormick as he appeared on a 1963 KAAY
Little Rock Arkansas album.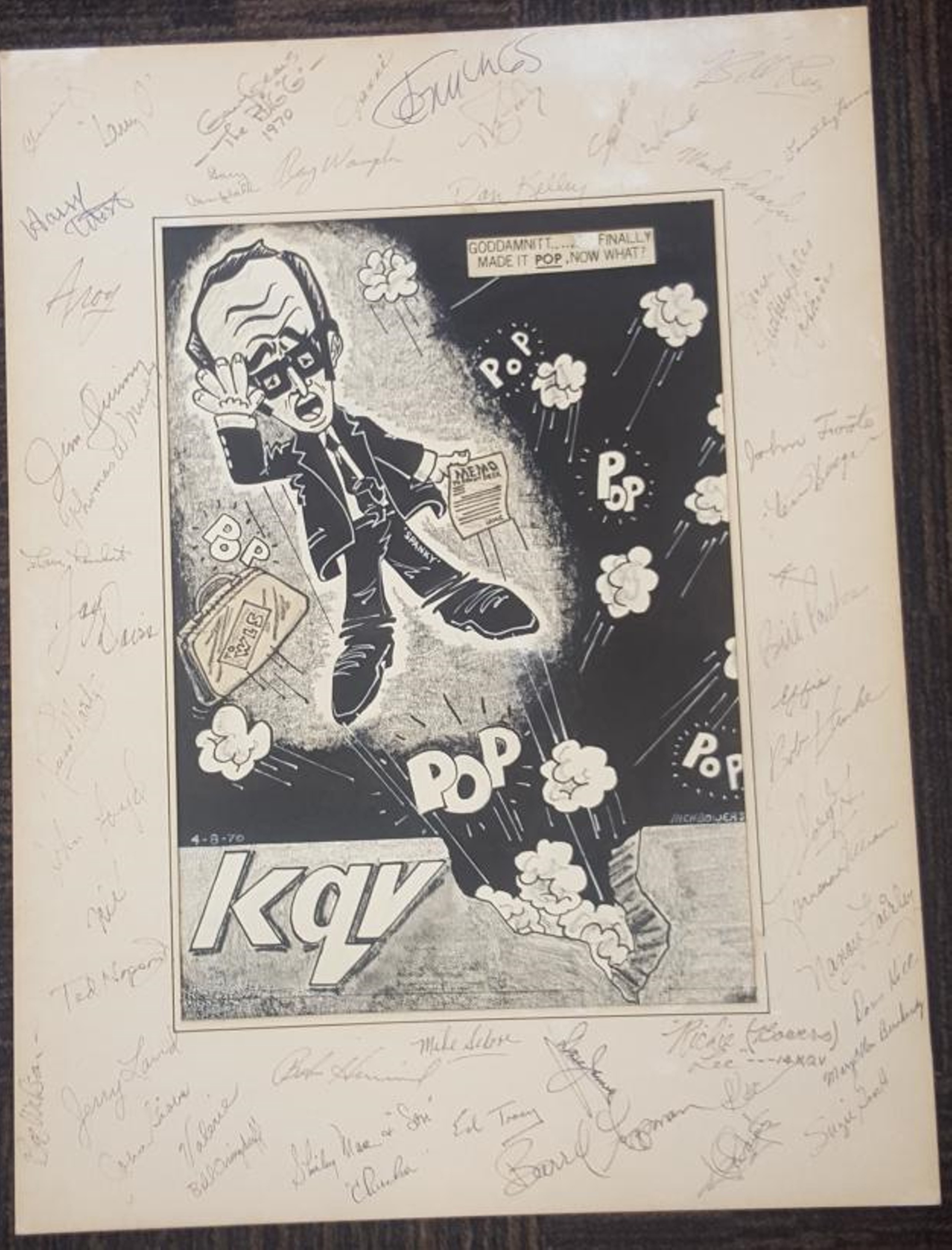 Caricature given to Mike McCormick when he left for WLS in April, 1970.