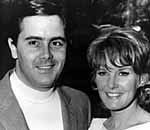 "Fun Lovin' KQV", "Fun Lovin Five", and "Groovy QV" were some of my contributions to KQV ... starting in 1963. I hired Al Julius, Dex Allen and Big Steve Rizen from my former station in Denver, KTLN ... Jim Quinn from WING-Dayton, Wendy Williams from State College, Pa., Hal "The Emperor" Murray from KDWB-Minneapolis, and Kris Stevens, and then when on to WLS in 1967. " . . . John Rook
---
"Your list of the Fun-Lovin Five really brings back some great memories. I loved the mellow smooth voice of Henry DaBecco (the passionate paison)? Also liked Dave Scott, the shanty- Irish wood chopper. Those were the days when we'd stand in awe outside the corner of "walk and don't walk". . . Rodger Skinner
---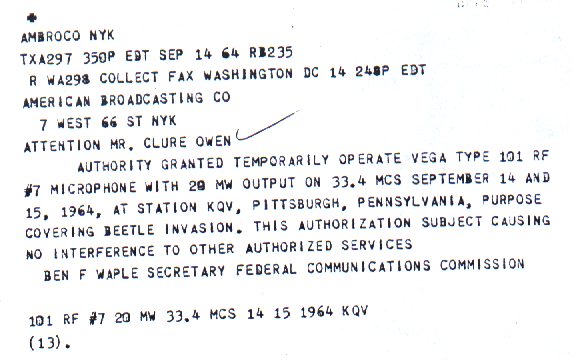 "Loved the new KQV update ... especially the photo's of the Beatles arrival .... I worked that out with promoter Tim Torme" . . . "Brinkman's "disc derby" "The Fun Lovin' Five" .... Groovy-QV, bringing the Beatles, Stones, Beach Boys, etc to Pittsburgh came about when I made a deal with concert presenter .... Tim Torme .... he was a Pittsburgher ... Those remote mic's that ABC sent us to cover the beatles was another idea I had .... Torme said the Beatles would not allow a "live" broadcast of the concert .... I knew that KDKA was planning on taping it and playing it back an hour later ..... so, we just broadcast live from the arena ... back to the studio .... then a 30 second delay tape.... so we didn't cover the concert live on KQV ... it was 30 seconds later ... but 29 1/2 minutes before KDKA got it on the air. They finally gave up and didn't finish the concert on KDKA" ... John Rook
---

I lived in Mt. Lebanon 1950-57 when WEEP(WILY), WAMO, and KDKA were the rage, and again in Fox Chapel 1963-1973 when my dial was fused to KQV. My earliest 60's memories of KQV were of Hal Murray's Militia (you could send in a be one of his Lieutenants) . . . Ken Justiss
---
"I gave birth to the KQVehicle in the early spring of 64...a big flood hit Pittsburgh .... I called ABC and asked for a boat/car ... one like my old competitor in Denver had .... and sure nuff ... they had the damn thing shipped to us .... three or four months after it was needed for the flood .... so after using it that summer ... we gave it away in a contest." . . . John Rook
"We all grew up listening to Colorful KQV Audio 14. remember .. you can make your car a KQVehicle .. let the highway miles unravel, we'll go along just for a song and two can travel... ride in good company with colorful KQV, the pulse of Pittsburgh. I remember those jingles like it was yesterday! Good show, Jeff. Later " . . . Rodger Skinner
---
"The Groovy QV line was made necessary because we had so many new releases that KD and other stations could not obtain so they air-checked us and lifted the records for their own use. Once we dropped the Groovy QV all over our new, exclusive, pre-release records, the theft of our air signal by the competition ended." . . . Bob Wilson
---
"Thanks for the KQV page. It brings back many memories. I have airchecks and pictures from the 70's and would be glad to to share them." . . . Carl Eckels . . . KQV/WDVE 1969-1979
---
"Thanks for such a great site! Thank you! From a former Pittsburgh radio guy, and a radio history buff, I really enjoyed the visit! " . . . Todd Lopes
---
"Just relived a lot of memories from my teen years in Pittsburgh by listening to your jingles . . . Thanks for the memories - I was one of those teens who had a transistor radio glued to my ear with KQV on! " . . . Tina Thomas . . . Battle Creek, MI
---
"Thanks for involving me in your fantastic homage to KQV where I spent many exciting years. I still run into people who were listeners in those years, who remember the DJ's and contests and promos and jingles . . .
My lasting recollection of KQV and it's people during those years was that we all had such great fun. It really was FUN LOVIN' KQV !" . . . John D. Gibbs
---
" It was so neat to see your page. I was very involved with KQV and was with the fan club. I got George Harrison's sister to come to Pgh. and do the Beatle Ball for Chuck Brinkman. She stayed at my house for 3 days and it was nuts. I was only 13 years old at the time. Take care." . . . Marcia Geyer
---
" Great page, Jeff. Do you mind if I create a link to it from the Pittsburgh chapter of the Society of Broadcast Engineers (SBE Chapter 20) ... www.broadcast.net/~sbe20 ? There's a lot of our guys who'll appreciate your stuff ... and they might be able to get you some of the airchecks/ jingles that you're missing." . . . Dave Morrison
---
" I read the "Groovy QV" article, in the PG today. It brought back a lot of memories!" . . . Lou Downard
---
"...and here I thought I was the only crazy 'QV fan out there! Great Web Site! Between 1967 and 1970 or so, I used to tape KQV off the air via simply placing the microphone next to the radio. The quality (as you can imagine) is pretty terrible - but I'm glad that a few of those tapes survive today." . . . Henry Tolino
---
"thanks for the great page it brings back lots of fond memories, I lived in several major cities and KQV was a special station at a great time in radio." . . . Bill Reese (KQV News)
---
"Jeff, Your site just keeps getting better and better!" . . . Regards, Erik F. Selby KQV Program Director
---
"I enjoyed your home page ... I especially enjoyed the tribute to KQV radio. It brings back so many memories! I used to listen to KQV all the time when I was a teen growing up in the Pittsburgh area. I enjoyed the air checks page. I used to listen to "Big Jim Quinn religiously in the late sixties, early seventies. I even won the "Top Pop Five" one evening! I think the number one record at the time was "Incense and Peppermint". I don't live in the area anymore (not my choice), but I do enjoy finding nostalgia about the old hometown!" . . . Thanks again, Don Klingensmith, Jr.
---
"Jeff, Visited your site today. Keep up the good work! A few things crossed my mind. KQV was one of many, many 5kw AM's up at the top end of the dial that were powerhouses in their day. ABC owned a couple ... KQV, WXYZ and KXYZ. Here in San Francisco there was KYA. We could add WEAM in Washington, etc. etc. I think at one point KQV's competition was WIXZ at 1360. I almost worked there. In the early 70's I was talking to Ray Gardella who I think was GM then, but nothing came if it. . . . Larry Berger
*** Larry is a long time radio programmer including WPLJ New York *** (Jeff)
---
"Your KQV page just get more entertaining all the time. I really flipped out over the 1958 ad heralding the beginning of KQV as we knew it. My family moved away from Pgh. in October 1957, so I missed the startup by just three months. I took to Texas with me, memories of WILY/ WEEP, WAMO, and KDKA, but not KQV. Only when we moved BACK to Pgh. in 1963 did I discover this "new" powerhouse -- then complete with Emperor Murray and crew. No one could match 'em. Your new KQV additions are great. I took a long while perusing 'em.
Here's your reward:
Hope you can use it.
. . . Ken Justiss
---
"I was pleased to find your KQV site tonight. What great memories! My name is Dave Popovich. I am Vice- President AC/Oldies for McVay Media in Cleveland. Mike McVay and I are both from Pittsburgh and grew up listening to KQV. Plus I worked in Pittsburgh radio until 1980. In 1971, I went to Point Park College. 1973, I was one of the first "phone turkeys" hired at 13Q. I answered Jack Armstrong's phones at night. In 1977, I was the PD of the first AC-FM in Pittsburgh ... WFFM in Braddock. In 1986, I consulted WMYG as a classic rock station. (It was wild .Chuck Brinkman was the PD ... I was the consultant. I listened to Chuck on KQV. He inspired me to go into radio.)" . . . Dave Popovich (4/29/97)
*** Chuck inspired a lot of us to get into this biz ! *** (Jeff)
---
"Jeff... Just great seeing the new John D. Gibbs page ... he was a role model for managers.. " . . . John Rook
---
"Saw the write-up this morning in the P-G, really interesting. It brought up a lot of memories for me about my "old" radio days in the Pittsburgh area. I did a stint on the all night show at KQV, sometime in the late 50's or early 60's (see what happens when you have "half-heimers")? I started out at a Charleroi station, then moved to WMCK in McKeesport, then somehow got hooked up doing some work at KQV, probably filling in for various people. This is a nice piece of work, congratulations. I'll try to pick you up on the "ether" waves." . . . Thanx, Lou Janis (6/18/97)
---
"I read with interest the article about KQV in last Wednesday's Post Gazette. Over the weekend I dug up the enclosed material and thought it might be of some interest to you. I remember wearing the button to get into the Fiesta Theater downtown to see "In The Heat Of The Night". Being a teenager in the 60's I was an avid KQV listener. Good luck in your endeavor to keep the "Groovy QV" alive. . . . Sincerely" . . . Michael Potoski (6/23/97)
*** Michael sent a KQV bumper sticker from the early 60's as well as KQV Finest Forty sheets from 1964 and a Hit Parade Survey from 1968. He also sent along a Super Summer Bonus Button from 1967. You can see a number of these items on the new Gallery 3 page. (Jeff) ***
---
"Hey Jeff ... Do you remember hearing about KQV's Kissing Countdown ? . . . Audrey Soldano (06/97)
*** Absolutely, If I recall it ended with them telling us to "OSCULATE" If anyone has some tape with that on, send it in . (Jeff) ***
---
"I really enjoyed your web page!! I'll be back when I have more time. I played in a band in high school and we would play for Dave Scott, Hal Murray and Chuck Brinkman. They would announce our name during the week- "Come and see the Avantes" (like the car - but spelled wrong) "at Baldwin High this Friday". It was great to actually hear our name on the radio - WOW! We were paid a whopping ten bucks for about 20 minutes of playing and they would DJ the rest of the night. It would be interesting to hear from other bands that did that "gig" back then - it was a blast . . . . Regards," Rick (7/02/97)
---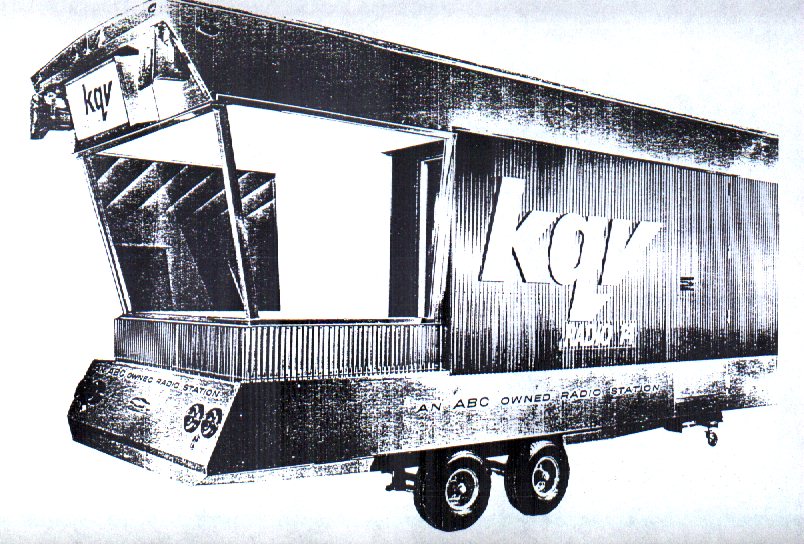 "I read about your KQV page in the Pgh. Post-Gazette a couple days ago and checked it out. It brought back some memories. I was a KQV fan from the early '60s until about '67 or '68. Another of my fond memories of the station was the KQVehicle. I remember seeing it for the first time at the old Allegheny County Fair, probably in '64. I had listened to a number of remote broadcasts from it prior to this, however. When I arrived at the fair that year, I headed straight for it and spent the next two hours standing in front of it. I was fascinated. I went back later in the evening and watched some more when Chuck Brinkman was on. " . . . Walter Kowalczyk (6/30/97)
---
Great job with the KQV page. It brings backs some great memories of growing up in the 60's. I did win Dave Scott's "Top Pop 5" two times. For a teenage kid that was big excitement so I may have kept something, I'll take a look and let you know. " . . . Mike Yotz (6/27/97)
---
" I looked at your site (very quickly, since I'm at work) and it brought back a lot of memories. I will definitely spend more time to check it out later. In the meantime, I noticed that you had one copy of a "Hit Parade" and I wanted to let you know that I have about 20 of them from 1969-1970. Not only are they interesting for the music but they also have different things on the back of them. Sometimes pictures of the DJs, sometimes advertisements.
. . . Mark Stahl (6/23/97)
---
"Jeff . . . My name is Richard Davis. On behalf of my brothers, Howard and Mark, we want to ask you if you have more audio of our brother, Jay, from his days at KQV. We just discovered your wonderful treasure trove of memories of our brother and just listening to the one cut is stunning. Please let us know if you have more. . . It's a wonderful site. Thanks for this sudden and awesome surprise. . . . Richard Davis (8/01/97)

*** It is a thrill for me to hear from relatives on KQV personalities who have run across this site. I am sending Mark and his family all I have of Jay Davis' material. If you can help me supply them with more airchecks, please contact me and I will make sure that they get them. . . . Jeff ***
"Great postings on the Main Page and Memories page. Especially loved the Peter Max like picture of Jay. Thanks so much. Thanks again. Downloaded the aircheck to my desktop and play it a few times a day just to hear his voice. Great." . . . Richard Davis (08/04/97)
---
"In the late sixties I attended Point Park Junior College and one of my classmates was Bob Harvey. I left college and lost touch with Bob. I remember that our Journalism classes were fun and the student run radio station WPPJ was a trip. I was one of the DJ's and enjoyed the fun of playing records. Glad to see that Bob went onto the radio. I myself went onto computers. I hope Bob sees this message. Hey, Bob, remember when I used to call you all the time asking about what our homework assignments were????" . . . Stanley J. Soroka Jr. (07/25/97)
---
" Visited your KQV website and after sending this e-mail, plan to connect with your Beatles site. A good number of years ago, I "found" Hal Murray (long since gone from KQV) on an Orlando radio station, doing night time talk. He sent me his "scrapbook" of radio memories. . . . Henry J. Sorenson (7/18/97)
---
"Jeff, Just a quick note to say hi and tell you how much I am enjoying your KQV site. Ken Justiss and I were buddies thoughtout high school (Fox Chapel) and I worked with him at TM in 1977. Great stuff . . . GREAT radio station! . . . Jim Conlee KLDE, Houston (7/14/97)
*** Jim is a former WIXZ Superman from WIXZ McKeesport ***
---
"Jeff, I found your KQV web pages while updating my resume and to links to everywhere I've worked. I was at KQV around 1979 while going to Pitt, after getting to know Bob Harvey while working as an EMT and paramedic. Bob brought me in as an intern, then the station hired me as a news writer. I also met my best friend, David Land, who was the night engineer while attending CMU. That was about 18 years ago and he's still my best friend. His father, Jerry Land, was a fixture at KQV/WDVE for many years as the chief engineer. From KQV I went on the air at WWSW as a reporter. It was great to see all of the KQV memories. We lived right by the Parkway East, so I used to listen partly so that I could hear Captain Bob talking while the helicopter flew by. My strongest memory, however, was listening to the radio one morning, half-awake, and hearing that Roberto Clemente had died. I was hoping that it was just a nightmare." . . . Nick Arnett (07/24/97)
---
"Thanks Jeff: I really enjoyed your KQV and WLS pages. I worked for Bob Wood at WBEN and listened to Jim Quinn in Pittsburgh and at WKBW. I wonder if Bob has seen your site?! The jingles and your intros are really neat too!" . . . Tom Langmyer (08/09/97)
---
"Jeff, A quick note from a former Pittsburgher (and one time KQV staffer) who had a major nostalgic rush looking at your site. I've been in broadcasting 23 years, and grew up listening to KQV in the late sixties. I was a student at Pitt in 1974, when a young DJ named Jeff Christie (who would have known???) came to a career day and I was the only student who showed up. He told me that you had to start out in a small market. I transferred to Edinboro State College, began working at WWGO Radio in Erie PA. and a career started. I worked at KQV in the early 80's as a part-timer using the air name Kevin Roberts. I was also News Director at country WEEP/ WDSY under my real name. I think it's great that somebody is keeping the memory alive, because it sure isn't the same station it was when we were growing up." . . . Jeff Gilbert Reporter WWJ Radio, Detroit (08/19/97)
---
"Hi Jeff, I love your KQV page! I grew up in the '60's as a part of KQV's audience. I liked all the DJ's, especially Hal Murray." . . . Wayne (08/19/97)
---
"A friend of mine told me about your KQV site and I was just looking at it. It's great! I lived in PGH from 64 to 71 and listened to KQV quite extensively. It brings back quite a few memories. They were a phenomenal station back then. I also remember going downtown to watch the DJ's in the window. Originally I think they kept the curtains open all the time, but later on they closed them late at night. . . . Robert Nichols (08/22/97)
---
"Hi! I've really enjoyed the KQV web site! My Mom worked for Ralph Beaudin and John Gibbs. I worked in the accounting department from 1976-1977. This web site brought back lots of memories. Thanks! " . . . Sue Calhoun (08/26/97)
---
*** We're still looking to identify all of the KQV basketball players in the pic on the John Gibbs Page. . . ***
"The guy on the extreme right, top row is Bob Wood. Hope this helps." . . . Steve Berger, Nationwide Communications Former GM of KQV A.G. (After Gibbs)" (11/21/97)
---
"Just thought I'd drop a line and let you know that I check out the material regularly. I'm not in the broadcast business, but I've been interested since I was a teenager in the '60s. ... It's nice to see all of the folks that have been in the broadcast business take the time to develop web pages for the rest of us to enjoy. This really adds something to "surfing the net." Regards," . . . Greg Jump (11/23/97)
---
"Jeff, Sounds to me you spent (misspent) your non-school hours the same way I did! and even listening to the same station, Groovy 'QV! " . . . Lois Fundis Weirton, WV (but I grew up in North Huntingdon Twp. in Westmoreland Co.) (11/24/97)
---
"Bobby Mitchell, former KQV Jock is alive and well and living on Long Island, NY. Bobby Mitchell AKA Ron Hughes is employed by the U.S. Dept. of Transportation /FAA and assigned to the Farmingdale Flight Standards District Office" . . . A Hughes (Ron's Daughter)
*** I have spoken to Ron and he has fond memories of Pittsburgh. Of all of the places he worked in radio, Pittsburgh was his favorite . . . Jeff ***
---
"I was tipped off to your Web site by a friend and fellow ex-Pittsburgher who sent me a copy of the Post-Gazette story. Nice work, lots of memories there. KQV used to play the Top Pop Five every day at 6 p.m. and give away the top 5 records from their weekly survey. I won it once; I believe the records I won were "Paperback Writer" by the Beatles, "Strangers in the Night" by Frank Sinatra, "Red Rubber Ball" by the Cyrkle, "Little Red Riding Hood" by Sam the Sham and the Pharaohs and ... drat, can't remember the last one, but I probably still have it. If there's anything missing, it's a bit more about the end of KQV as a Top 40 station, when Joey Reynolds was PD. The station was taking a lot of chances at that point; it had fallen behind 13Q, WKTQ AM 1320, as the top station for Top 40 by then, and they were playing a lot of fringe music even the album rock stations in Pittsburgh were overlooking. The DJs also were holding forth for long stretches between records, throwing out a lot of inside humor and some organized comedy bits by two guys called Coal and Steel, who I believe were George Hart and Joe Fenn, but I might be wrong. By the way, I'm the features editor and one of the Web columnists for The Sentinel in Carlisle and, since you're a local person, I'd like to have a story in the local newspaper on your endeavors." . . . Francis Volpe (08/31/97)
*** The article appeared in the Carlisle Sentinel 9/28/97 . . . Jeff
---
"Jeff, I grew up in Pittsburgh in the 50's & 60's. I was a child of the Fun Lovin Five era and WOW does this site bring back memories. Thanks for what you've done. I knew Alan (Jay) Davis and his family well, we belonged to the same swim club. I followed his career as Dave Allen in Greensburg and at KQV. I am also a personal friend of Joey Reynolds (I lost track of him after Miami) It's good to know where he is. Although I was in row 2 at the 9/14/64 Beatles concert, I can't manage to find myself in the photo. Thanks again for all your efforts." . . . Jeff Crozier Laurel, MD (11/02/97)
---
"Hi Jeff, I can't tell you what a thrill it is to hear that Jim Quinn KQV break from 1969 (which I recorded myself at the tender age of 12) on your web site. Steve Kingston played the very same break (again from me) on the air on B-94 as a sweeper when he hired him for mornings with Banana Don. You've added a lot of stuff, I will get back to you with some more comments. Cheers" . . . Clarke Ingram (12/08/97)
---
"Jeff! This note is long overdue, but if it's not written now, Lord knows when I will get to it. I want to thank you for all the wonderful work you obviously did to compile that terrific website with the visual and audio memories from KQV. Keeve Berman is a long-time buddy of mine, and another KQV staffer in news, Bob Kopler, is still in touch with me. In fact, Bob is now holding down the morning anchor job at KDKA which I had for 5 years until departing in 1973. Yes, that was a long time ago. I'm now living in New Jersey and working in New York. While I've had access to your WLS site for some time I have yet to do very much with that, since I've never worked a day in Chicago ... but your Audio 14 site is a treasure - trove for any Pittsburgh broadcaster. Couldn't help but notice that you even have a tribute page to Bill Burns. Got a long distance call the day he died ... that was a shocker, despite his age. So, Jeff, continued success to you" . . . Bob Gibson (12/15/97)
---
"Hi Jeff, LOVE your site. I heard about it from my friend Greg Matecko, whom I believe you worked with at WKPA(?) several years ago. (actually it was WPSL in Monroeville) Anyway, he pointed me in your direction and I'm glad he did. I now work in marketing and communications, but used to work in radio -- in writing, production, and on-air. As a young teenager in the early 1970's I spent way too much time standing at the KQV window. Later, I had the fortune to work with Anderson Little and John Gibbs (WDUQ during college); Jay Davis and Jim Quinn (at 96KX); George Hart (3WS); and Jon Summers (WLTJ). I have some photos of them if you'd like copies. As you probably know, George died a few years ago. When I was a kid, I sent a fan letter to Jeff Christie and I still have the signed longhand response he sent me in black Flair on xerox paper. I should fax him a copy at the EIB network. Jeff, you have an incredible web site. I grew up a KQV fanatic when I wasn't falling asleep with my transistor radio tuned to Party Line at night. I'm a hard-core radio fan and will be checking back often. Great work!!! . . . John Fries (1/19/98)
---
"Love the site! I have visited before but haven't dropped a line. I grew up just south of Milwaukee, WI so as you can guess my stations were WLS, WCFL and WOKY. I came across a '67 aircheck of KQV on the reelradio site and was amazed by the sound of the station, especially the almost subliminal equalized "Groovy Q-V" voicer that pops up after every record. Do you by any chance have that voicer in your collection? I would love to get a copy of it. I am going to contact Ken R. to see if I can get a copy of the jingles from that era. I have quite a few of the WLS jingles in my collection from Anita Kerr on up as well as WCFL's so if you are interested in trading anything let me know. I am at work now so I must run, I work for Broadcast Electronics in Quincy, Illinois installing our AudioVault systems in stations around the country ... so back to taking customer calls I go." . . . Trevor Stern (4/8/98)
---
"Hi Jeff loved the site ... and the fantastic jingles. " . . . Jeff Stricker (3/5/98)
---
"Before he left for DC, Jon Summers did the afternoon show. My girlfriend and I hung out at his window on Seventh Avenue while waiting for her ride home. I shared my birthday cake with him in the lobby between songs. Does anybody know where he is now?" . . . Alice (6/22/98)
Jon is currently in Buffalo doing mornings at adult standards WECK and voice of WKBW-TV, Channel 7 (also starring in AM Buffalo) in Buffalo, New York. . . . Jeff
---
"I spent many a Saturday afternoon in front of the KQV window watching the jocks do their thing! Great website! Loved your site!" . . . Richard M Cline (6/23/98)