Over the years Monroe Bowl was one of Pittsburgh's favorite spots for family fun. While the attractions in the center may have changed over the years, Monroe Bowl was always committed to providing a fun place for the young and old.
Monroe Bowl had many features during it's years of operation. While bowling was the primary sport at Monroe Bowl, there were many other recreational activities hosted there. Monroe Bowl was the home of an indoor miniature golf course, an indoor golf driving range, slot cars racing track, indoor archery range, billiard tables, pinball games and a video arcade, a pro shop, the Chuck Wagon Snack Bar, Weinstein's Restaurant, Bar-X-Bar Lounge, nursery, Putt-Putt Golf, and the Monroe Bowl Roller Rink.

During the summer, Monroe Bowl hosted a bowling tournament, the Monroe Bowl Summer Classics, that was one of the largest summer tournaments in the country.
Lee Horvitz and his family built Monroe Bowl into one of the finest and busiest bowling facilities in the Pittsburgh area. Sadly, Lee passed away on April 3, 2008. Lee's Obituary from the Pittsburgh Post Gazette appears here.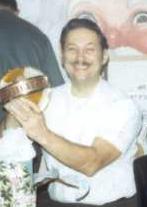 Lee in 1970
Lee's brother, Fred Horvitz passed away August 16, 2008 in Boca Raton, Florida.
Lee's brother, Bob Horvitz passed away February 4, 2011 in Palm Beach, Florida.
A number of our Monroe Bowl Family have passed away in recent years. Ginny Crane, John Humphrey, Jack Ridgeley, Nancy Miller Gardner, and Mary Lou Sartain all have left us. You will all be missed.
Not only was Monroe Bowl Lee's family business, but as you can see on the list below, so many other families also worked and grew up at Monroe Bowl. It has been asked why this list is not alphabetical. I thought it would be interesting to see how many families and extended families were part of the Monroe Bowl family.
Did you work at Monroe Bowl ? Let me know what you are doing now. If I missed your name on this page, please contact me. There are more than 25 years of memories and good people to be included here. Please help fill this list. If you have any pictures, also let me know. If you'd like to have your email address added to your name, please let me know.
... Jeff

| | |
| --- | --- |
| | |
| Bar-X Sign by front counter | Brad Morris & Jeff Rosenthal |
Please click here to re-load the full website