Monroe Bowl
Monroe Bowl opened in August 1961. On Easter night, April 14, 1963 a fire broke out in the kitchen causing severe damage to the bowling center. New pinsetters were purchased. It was now 34 lanes instead of 40.

The following story appeared in the Pittsburgh Press on Monday April 15, 1963.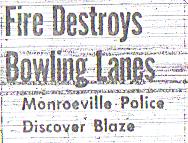 The Monroe Bowling Alley, a 40 - lane establishment on Northern Pike in Monroeville was
destroyed by a fire early today.
Monroeville police making a routine check of the Miracle Mile Shopping Center discovered
flames shooting from the rear of the building located behind the cnter.
Four fire companies battled the blaze. Police said it apparently broke out in the kitchen area
of the alleys, which also housed a restaurant, cocktail lounge and banquet room.
The roof of the two-year old building collapsed and only four walls remained standing as
firemen poured water on the smoldering rubble.
A spokesman for Forbes Development Corp. of Pittsburgh, which operated the
establishment, said "we will not know how much the damage amouunted to until we have
completed a check on how much of the equipment still is usabale. The building is insured."

The following story appeared in the Pittsburgh Post-Gazette on Tuesday April 16, 1963.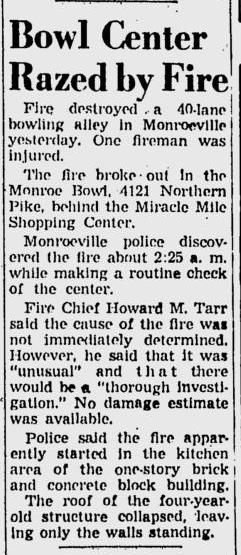 On December 18, 2002, The late Bob Horvitz sent me his memories of that night.
"One vivid memory I have is one night after returning home from Erie after visiting Esther's parents (Mrs. Horvitz},we could look out the front window of our house in Eastmont and see a bright orange sky. The Monroe Bowl in flames! I rushed over to see if there was anything I could do, and I was thankful that no one was injured. When it was rebuilt, we made fewer lanes than the original total, making room for the miniature car racing area and after that the roller skating area."
Please click here to re-load the full website
http://monroebowl.andmuchmore.com