Rex Miller's story is one of the most unusual of all KQV's personalities. Rex was hired by John Borders and joined KQV February 8, 1968 to do mornings. Rex came to KQV from WNOX in Knoxville, Tennessee. Rex did not stay on mornings long. He was moved to overnights and by the end of April had left the station. His last shift was April 26th.
KQV's Chuck Brinkman said this about Rex to John Mehno, "Another Texan. He must have weighed about 380 pounds. Highly talented, an immense brain and talent, but so undisciplined it was unbelievable. He would just mesmerize you when you watched him because everything came to him off the wall."
Rex was hired by Jack Gale to do afternoons in Charlotte at WAYS the following Monday. He never showed up. No explanation.
Jack had this to say in his book "Same Time ... Same Station"... "I thought of Rex Miller, who I considered to be one of the top jocks in the nation. I called and offered him our afternoon drive job. He accepted and made some taped promos which we ran. We did a tremendous promotion campaign on his coming to Big Ways. On the day of his first show, we started a countdown to 4 pm when he was to hit the air. By noontime, we hadn't heard from him. Stan grew concerned and so did I. One o'clock, two o'clock, three o'clock and still no word from Rex. At ten til 4, we realized he wasn't coming, so I started a contest called "Find Rex Miller" with a cash prize to whoever found him. At five past four, we got a call from a listener who said Rex Miller was on the air at WIXE, a little station in Monroe, N.C., about fifteen minutes from Charlotte. Dave Hedrick, their PD had pulled a great one on us. He had gone on the air at 4 pm saying he was Rex Miller."
Rex became an author after leaving radio. He had a number of horror stories and books published over the years. His bibliography includes 1 novel, "Saint Louis Blues", A series of books, Slob, Frenzy, Profane Men, Stone Shadow, Iceman, Slice, Chaingang, Butcher, and Savant.
In 2002, it was discovered that Rex was living in a nursing home outside of St Louis after having suffered a stroke.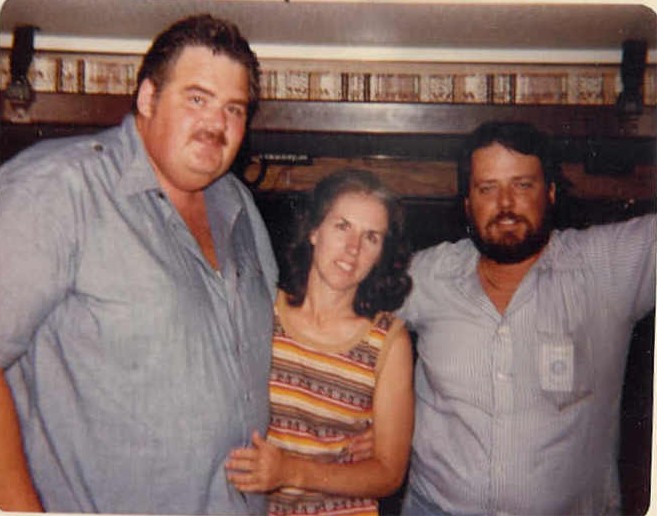 Rex with wife Carol and John Long
(from John Long's website)
1979
---
From the Sikeston Standard Democrat...
Rex Spangberg
05/23/04
EAST PRAIRIE - Rex M. Spangberg, 65, died at 9 p.m. May 21, 2004, at Missouri Delta Medical Center in Sikeston.
Born April 25, 1939, at St. Joseph, son of the late Victor and Dixie Miller Spangberg, he lived in Mississippi County for several years, moving from St. Louis where he was a radio announcer. He was also a collectibles dealer and author.
Survivors include: three cousins, Susan Stahlin of Sequim, Wash., Rich Stahlin of Ft. Collins, Colo., and Mimi Gosney of Louisville, Ky.
Graveside services will be conducted at 2 p.m. Thursday at Mounds Cemetery near New Madrid with Edward Wells officiating.
Shelby Funeral Home in East Prairie is in charge of arrangements. "

On June 8, 2004, I received this e-mail from John Rook...
"Jack Gale reports that one of the funniest jocks ever, Rex Miller died this past Sunday. He was in a nursing home near St. Louis, Mo. for months and suffered a heart attack Sunday. Rex worked for Gordon McLendon, KQV in Pittsburgh, WUBE in Cincy, and with Gale at WITH in Baltimore in the early sixties . Jack says, "Another one of the great radio personalities has left us too soon ... "
On June 8, 2004, I received this e-mail from John Rook...
"Bill Young would certainly know great talent....thought you'd find his remarks of interest. Sorry that I never got to hear him. "
"I remember hearing Rex daily on KLIF and later on KTHT in Houston. He WAS, as Jack said, the single funniest jock I ever heard in my life. I remember the day he signed on at KLIF (the first time ... he was there twice as I recall) ..... he said .... "my biggest disappointment in moving to Dallas was to discover that Love Field was only an airport!"
He was a jock's jock! Each show was crammed so full of bits and liners, coming one right after another, that you had to tape it or lose it. Zillions of "legendary" rumors circulated about him, many unkind and most probably untrue ... he was (rumored) to be very obese and to have rarely bathed or showered ... would work all night recording bits for his show, then fall asleep and not show up for work ... would burn out all his material in 3 months and have to move on (although the Hoopers went through the roof for that 3 months!) ... when hired for a new job, you had to pay his moving expenses, which included a massive aquarium.
I never met him, but I never missed a show while he was in Dallas ... I would sit in my PD's office in Tyler, Tx, listening to KLIF! The rumors only made him more magical.
Sorry to hear of his death ... he was a great one!
... Bill Young
On June 9, 2004, I received this e-mail from Ken Dowe
"Rex worked with me at KLIF, and for me in Knoxville and in Cincinnati. A world class talent and crazy man. Normal, he was not. In anything."
On June 14, 2004, Ken Wells' memories of Rex Miller from Pittsburgh Radio Nostalgia Board
"I remember Rex Miller, having banished from the morning, for which he came to Pittsburgh in the first place, working the midnite to six am shift at KQV.
He was talking about the "new jingles" that had just been added at KQV,
Miller said, "..and for the past week, our program manager, and his staff, have been cavorting around Dallas -- on the company expense account-- in their silk suits, working eight hours a day to develop a new jingle package for this station. After a whole week of diligent, dedicated hard work, here's what they've come up with!"
Miller then played a :03 second jingle: "FOURTEEN KAY KYOO Vee!"
Rex followed the jingle with the comment, "Sure nice to know the station got it's money's worth.""
On June 20, 2004, I received this John Long
"I had never met a disc jockey like Rex. The closest was Don Rose when he was at WQXI. Rex was big in stature and very animated. When Rex hired me to do 12-3PM at WNOX in 1967, the first thing he did was give me a new air name: Kincaid. It was in keeping with the overall rugged outlaw cowboy theme of the station. The jocks were called the 99'ers and Rex used the Marlboro theme in station promos. He was the first program director to critique me and make me relax on the air. "Be yourself" he told me and most importantly "have fun." He told me to romance the music, feel it, groove to it, and communicate that to the listeners. He told all of the jocks to call him "the ol' Skip," so we did. Rex was a funky guy, loved the blues and jazz. One day he called me into the production room (he was always in there producing bits or promos) and asked to listen to the new news intro. He hit the button on the Ampex and out came an edit of Ray Charles singing "oooooooooooowwwwwwwwwwwwww, I've got news for you" followed by the instrumental from the song. I didn't know what to say. It was so unusual, creative, spontaneous, and sooo Knoxville. That was the funkiest town in the South. A guy named Crockett used to bring in concerts at the civic auditorium and they were mostly black artists and the audience was mostly white kids. Johnny Pirkle, music director at WNOX and fellow jock, told me years later that the reason he recommended me to Rex as a jock was because I loved R&B. Rex was always writing bits, jokes, and one liners. He told me that he regularly sent material to Johnny Carson's writers. I don't know if they ever bought any of his jokes; they probably stole some of them though. Rex and Carol had my wife and I over for dinner often. That was a treat because Rex had an enormous appetite. There was always plenty to eat. Other times we'd go to Krystal and order obscene amounts of the little square hamburgers. He loved them. After we got fired at WNOX, I didn't see Rex again until he was working in Chicago in the early 70's and I was a PD in Cedar Rapids, Iowa. One weekend my wife and I went for a visit and Rex and Carol introduced us to Mexican food; tacos actually. I think Rex ate about 24. Fast forward to 1979 and I was at WHBQ in Memphis and went through East Prarie, Missouri on a monitoring trip through the Midwest (looking for jocks). I stopped to see Rex and Carol. By then, Rex was out of radio all together. He had started a mail order business for radio premiums (Captain Marvel decoder rings, etc.). Now we're up to Y2K. I found him again after a year long search. I found a Rex Miller who had written several paperbacks. I contacted the publisher; they said they couldn't release any information, but would be happy to forward a letter to his guardian (?). They did say his health was not good. In December of 2001, I received a letter from Carol. Rex was indeed in poor health. He'd had a severe stroke several years earlier and was in a nursing home.and partially paralyzed. He and Carol had divorced amicably, yet she was taking care of his personal affairs. She sent me copies of all his books. I wrote Rex often, sending the letters to Carol, who read them to him. She would write back and say that my letters, as well as Jack Gale's, made him smile. The last letter I received from Carol was after he died. She said that in the final few months, Rex's smile was gone and so was he for all intents and purposes. During my 1979 visit with them in East Prarie Rex gave me one of his radio premium catalogs. I still have it, the picture used on the KQV website, and very fond memories of the most talent people I ever met in my life, Rex Miller Spangberg
John Long"