The following is an excerpt from a chapter of a forthcoming book by John Rook ...

Music Excitement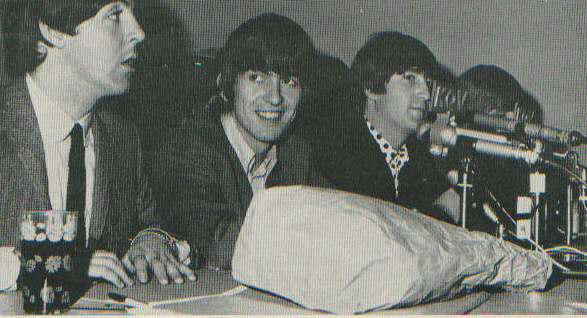 Paul, George, John & Ringo at KQV
Decades have passed but I can remember it like it was just a few short weeks ago, as Program Director of ABC owned KQV-Pittsburgh, I had cemented a relationship with Bess Coleman and Brian Epstein, managers of what was to become the hottest recording stars of this generation - the Beatles. Upon George Harrison and John Lennon learning of my close friendship with one of their idols, Eddie Cochran, the door was opened for KQV to become the first radio station in the nation to air most of the early hits by the mop-tops.
In those days before satellites and Federal Express, the first few "exclusives" from England were copied and transported to the Pittsburgh airport where for a few bucks, airline pilots would fly them in the cabin to New York where WABC's program director, Rick Sklar eagerly waited to rush them to "Cousin Brucie".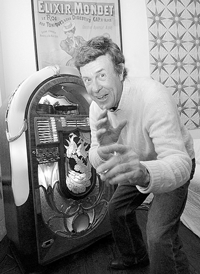 "Cousin" Bruce Morrow
As he joyfully proclaimed them to be WABC World Premiere's, KQV's night time pied piper Chuck Brinkman, who had presented them to his audience at least a day before, begged me to allow more time to lapse before supplying them to WABC, whose signal covered the entire eastern USA including Pittsburgh. However, within hours of KQV airing any new Beatle recording, Rick Sklar was on the phone to insist it be shared with WABC. KQV was such a "hot" radio station, that the always present record people traveling into town would telephone Rick to alert him.
After a few weeks, Rick discovered an even speedier way to have Beatle recordings transported to New York. Using "downtime" on the ABC radio network, they were sent directly to the WABC studio's and rushed to the air. Rick found humor in knowing that dozens of affiliates, including ABC owned WLS in Chicago didn't realize they too could have had "world premieres" had they just paid attention what was being moved during the periods of network "downtime". Our little secret didn't escape the attention of ABC's radio president Hal Neal, who insisted we share the Beatle music with WLS also. At that point, within an hour or two of airing a Beatle exclusive on KQV, it was also being heard by Pittsburghers via the huge signals of both WABC and WLS .
Brian Epstein arranged for Chuck and me to "vacation" in the Bahamas with the Beatles, where given the almost primitive telephone service, Chuck "taped" interviews.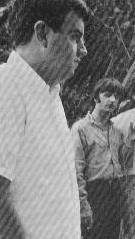 Chuck & Ringo
Hal Neal, always questioning any relationship and/or friendship ABC programmers had with record people, soon appreciated my contacts .. if for no other reason than supplying Rick with WABeatleC World Premieres. "Your music excitement concept is brilliant" said Neal, "just make sure your hands are always clean in dealing with those record people". I did, and "Music excitement" became a tool I would use for many years as a programmer.
(This is just an excerpt from Passing Thru's "Beatle Chapter)
All Content on this Web Page © 2005 John H. Rook
All Rights Reserved



Former KQV Program Director John Rook is writing a book called "Passing Thru". Excerpts of the new book, plus other comments from John are now on line at www.johnrook.com