The following is an excerpt from a chapter of a forthcoming book by John Rook ...

Passing Thru - WLS Bound

I had been offered the job of being Philadelphia's initial top 40 program director of WFIL. Mike Joseph had been retained as the stations consultant and his first choice to be the stations program director was me. After four years of programming KQV in Pittsburgh , I was ready for a larger market and I was pleased that Mike had picked me to be responsible for kicking off the new format for the Philly powerhouse AM facility. There was no doubt in my mind the station would be successful in knocking off the perennial top forty station there, WIBG, or as it was called, "Wibbage".

Returning home to Pittsburgh from Philadelphia , I presented my resignation to my boss, John Gibbs, who said he was both delighted and saddened by my notice. "Delighted for you John and saddened for me". He went on to explain prior to my arrival all program directors he had hired were terminated, never turn in a resignation. He said Hal Neal had called him that morning asking why his and my working relationship had been so good. With a red face Gibbs said, "I just told him I learned early on you were right about 80% of the time and that's enough to win in any game." That afternoon ABC radio president Hal Neal called and insisted I fly immediately to New York to discuss "this silly assed offer you got from Joseph."

Departing from my flight to New York, I was confused upon seeing a uniformed limousine driver holding a sign with my name in big print letters. I had made the trip several times before and received no such attention, so I walked past him before returning to ask if I were the John Rook he was waiting for. "Are you with ABC", he asked. Answering in the affirmative, he immediately reached for my overnight bag to carry and motioned me to follow. After depositing me at the Americana hotel, I was ushered to a suite with a basket of fresh fruit waiting there for my arrival. Attached was a personal hand written note on the stationery of Harold L. Neal , Jr., President, ABC radio. "See you tomorrow, 10:00am - Hal". Class, pure class, I thought ... and another trick I would add to my own welcome basket for others in the future.

"Good morning Mr. Rook" his secretary said as I entered Hal Neal's unpretentious office suite. "Mr. Rook's here" she said into the speaker phone and within seconds the office door opened with Hal offering a big smile and handshake, inviting me into his office. His office was actually smaller than mine at KQV as I sat down in front of his desk. Those little cheater glasses sitting half way down his nose, Hal began, "So Mike Joseph's wooing you huh". I explained that I had not initiated the job offer at WFIL as Hal immediately interrupted, "well you'd rather be in Chicago than Philadelphia wouldn't you?" "Sure", I said, nodding my head in agreement. Hal begin to explain how WLS had been overtaken by WCFL. Ralph Beaudin had been credited for making WLS into a giant success for the company. In reward for job he had done at both KQV and WLS, he had stunned the industry when he leapfrogged over Hal and had been made president of all ABC radio, including the networks. Referring to his new boss, Hal said, "Ralph left Gene Taylor in charge out there before coming to New York". He went on to explain how" Taylor has squandered the lead he had and now the stations in the dumper". I was surprised at Neal's bluntness, but pleased he trusted me with his appraisal. "I want you to go out there and bring that station back", he said, "You'll have everything you need to do the job". He assured me I would have no interference, "If anyone gets in your way, you let me know". It was obvious to me though, Gene Taylor was out of favor with Hal Neal.

"Now", he continued. "it's important that you not be tempted by the Mike Joseph's in the business, what can keep to focused on ABC." I answered, more than anything else I wanted to be responsible for the programming of a group of radio stations that would allow me to live in California . Neal explained he doubted the ABC stations would ever have a national program director because of the company's diverse formats. New York , Detroit , Pittsburgh and Chicago were top 40 oriented and the two west coast facilities were talk stations. "However", he added, "we have fm stations in all of those markets that could very easily benefit from a group program effort". I told him I would very much like that kind of a job, when and if the company's fm's ever decided to split from duplicating the programming of their big sister AM's. Looking over the top of his reading glasses, Hal looked me right in the eye and said, "do the job in Chicago and that's a very real possibility". To my way of thinking, I had just found my ticket back to California and the job I had always wanted. All I had to do was return WLS to the top of the Chicago ratings. It would take some doing, but I was excited and couldn't wait to get to Chicago .

Hal asked if I thought it would be helpful if I were given the title of Operations manager at WLS, instead that of Program Director. I explained, I would rather be known as Program Director, so their would be no doubt of my main responsibilities. We also talked how important WLS was for the much needed revenue ABC needed to purchase additional color programming equipment for the company's television stations. "Our radio stations are the cash cows of the company", he said.

ABC Program Directors 1968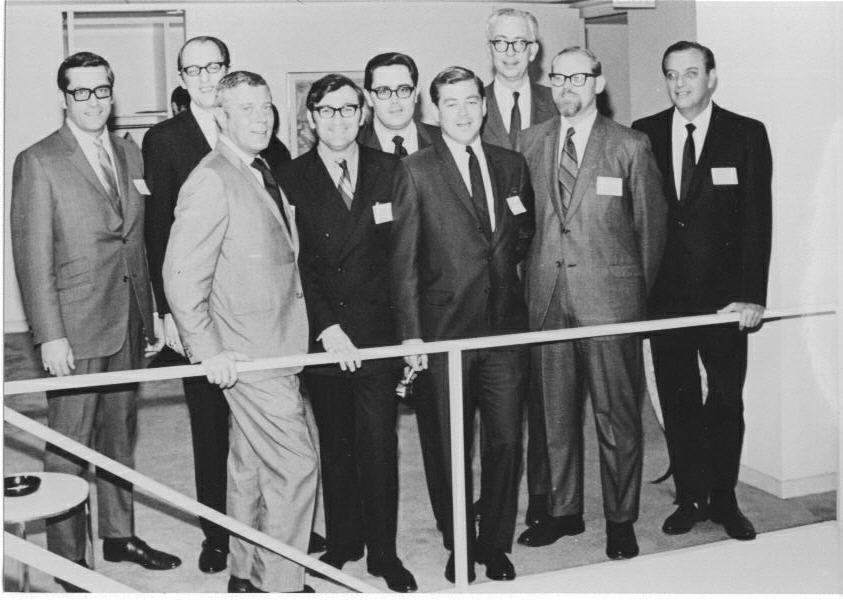 Joe Bacarella, Mike McCormick,Hal Neal, Rick Sklar, John Rook,
unknown, Bob Heneberry, Charles Peterson, unknown
Neal bristled as he expressed concerns of WLS disc jockeys being "too close to those damn record people". He was especially worried about one WLS disc jockey who was a brother of the Columbia records representative in Chicago . Arching his eyebrow in suspicion and shaking his head, he related WLS was not programming the nation's number one record, "Respect" by Aretha Franklin, but the station was giving air play to Aretha's Columbia recordings that were never hits. ABC had been forced to divest itself of ABC records following the congressional payola hearings of the early 1960's and he would often frown on any relationship radio programmers or disc jockeys had with people in the record industry.
Hal glanced at a pad of scribbles on his desk, "Do you know someone named Irving Azoff,"? he asked. "Never heard of him", I replied. "He's got the station wrapped up in some kind of deal he has with the jocks and I want that ended". It was explained Azoff would book acts into the vast WLS listening area, hire a station disc jockey to front it and get free mentions on the air during the disc jockey's show, without paying for commercials. Someone who wanted to do the same thing had complained to ABC, after getting nowhere when they brought it up to Gene Taylor. Hal said, referring to Gene, "He better not be involved in this little scam". "Find out what's going on and clean that damn station out John, just clean it out, before we loose our damn license".
Hal was correct, Irving Azoff did indeed have a "solid relationship" with the WLS jocks, he would also become a good friend of mine for all the years ahead. Who would have thought the diminutive Mr. Azoff would become one of the biggest wheeler dealers in the music business. Always returning every call to me, opening any doors I wanted to enter, even forty years later.
Moving out to Hollywood about the same time I did, Irving Azoff became one of the music industry's most successful icons. Rising to become chairman of MCA's Music Entertainment Group, after introducing the world to many of the top recording artists of the day, including the Eagles.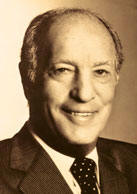 Leonard Goldenson
Breaking for lunch, we took the elevator to the exclusive dining area on the top floor of the ABC building, where, within minutes, Leonard Goldenson joined us. He was a quiet man, small in stature, but a giant in broadcasting. I had met him before during a station presentation, but didn't really expect he would remember me, or our earlier meeting. A smile came on his face as he offered his hand to shake, saying, "John, nice seeing you again, how's everything in the commonwealth". I was caught off guard, not only by his relaxed informal greeting, but that he referred to the Commonwealth of Pennsylvania . Sitting down across from me, he explained he was born in the state just after the turn of the century and had fond memories of childhood there. He explained it had taken him a dozen years to bring ABC into being mentioned in the same breath as CBS and NBC. While ABC television had not yet matched its rivals in television, the radio stations of ABC were far ahead of CBS and NBC in audience acceptance and revenue.
I was on top of the world in more ways than one, I thought. Overlooking the skyline of the New York, a mater de' serving lunch to just the three of us, the founder and chairman of ABC, the company's president and me. Hal interrupted "John's done a good job for us in Pittsburgh , as Mr. Goldenson smiled, nodded and replied, "Hal believes you can repeat in Chicago". It was apparent Mr. Goldenson was aware of the decline in WLS ratings as they talked vaguely about how it had affected the stations decline in revenue. Hal predicted it could take six months before "we'll see that turn around".
As our lunch was being delivered, Goldenson took a few bites before being handed a note and excused himself, telling me to remain seated and left the table, never to return. Hal winked at me and said, "Leonard's a busy man, you should be honored he joined us. "Very much so", I replied.
After lunch Hal and I took the elevator back to his office and since I had three hours before my return flight to Pittsburgh , we talked some more. We talked of his concern with WXYZ radio in Detroit , now challenged by WKNR. We talked about how difficult it had been for the ABC Top 40 stations saddled with the network feed of Don McNeal's Breakfast Club. "That one damn hour and suddenly we are NBC" said Neal, referring to the peacock networks dependency on network programming. "Ralph's changing a lot of that with his new 4 network concept."
As I stood to depart for the airport and my flight back to Pittsburgh , Hal glanced over the top of his reading glasses and volunteered, "Move 'em all out if you want John" indicating that may be the option in Chicago. No doubt was left in my mind that I had total backing from both Goldenson and Neal. "You would expect a manager who came from programming would know it all starts there", he said, shaking his head in reference to Gene Taylor. Just as I was at the door of his office, Hal pulled a business card from his desk drawer and wrote his private office phone number on it. Again glancing over those small reading glasses sitting half way down his nose, he said, "Don't be afraid to call if you need too".
Returning to Pittsburgh , within days ABC headquarters made the announcement I had been appointed Program Director of WLS. At the same time, Rick Sklar telephoned to enlist my services for on air work at WABC saying they expected a major AFTRA strike would pull their disc jockeys off the air. Sure enough, two days later, I was back in New York as a disc jockey in both the morning and afternoon shifts replacing the striking Herb Oscar Anderson and Scott Muni. As the only one in management with disc jockey experience I was stretched to work three hours, twice a day, seven days a week for a month.
WABC had been known for playing only the top 20 hits over and over. But that was when they also had commercials and news each hour. Now, with limited commercials and news, I suggested some additional music be added each hour from the recent hits category. Rick Sklar was concerned any change in the music would confuse the stations audience but I prevailed, allowing us to stretch out more time before repeating music.
After hearing the songs on the limited playlist up to four times a day while on the air, I vowed I'd never again listen to "Bernadette" by the Four Tops or "The Happening" by the Supremes. To this day I hate those songs.
Rick excused himself from going on the air, saying he "wasn't qualified" to do so. After a few days of being on the air for long periods of time, I again quizzed him as to why he couldn't help out in that area. "You're doin' fine", he said sheepishly. That left most of the on air work handled by myself as Johnny Rowe, WABC's chief engineer, Bernie Koval, who adopted the air name of Bernie the K and Marty Grove, who years later would be known for his Filmmaker Focus reviews at the Hollywood Reporter and CNN.
With all of the station's regular disc jockeys no longer on the air, many of the WABC sponsors took a hiatus from advertising. Rick expressed real concerns, having no idea what to program on a station without disc jockeys and commercials. He immediately began to locate as many prerecorded public service commercials as possible. I volunteered, "why not just play more music?" It was as if a light bulb had suddenly gone on in his head as he answered, "That's a great idea!" and we begin featuring "triple plays" and "double plays" around the clock before programming a commercial. I was dumfounded when the sales manager complained, "We don't even sound like WABC anymore". The arrival of the weekly Hooper ratings showed a twenty percent increase in every time period, with WABC soundly defeating WMCA, who was not on strike and operating with a full line up of disc jockeys, with what suddenly to New Yorkers was a cluttered station, compared to the striped down, music machine of WABC.
At about the mid point of the strike, a concerned Wally Schwartz, VP & general manager of WABC told me we would have to stop broadcasting and go off the air. The engineers union notified management they would be honoring the picket line set up by the stations AFTRA members, preventing them from entering the building. Schwartz seemed resigned to defeat, as though there was no alternative but to take the station off the air. I immediately went looking for Rick Sklar , who agreed with Schwartz's appraisal. Explaining I could simply move myself to the engineer's position, swinging the microphone to the engineer side of the console, it was nothing more than was being done at stations all over the nation, in non union markets. Wally asked, "can you do that?" "Of course," I said. This is common in most mid sized cities where radio stations operate without union engineers, but unheard of in unionized New York. I immediately sat down and swinging the microphone to the control side of the board continued the program. After about thirty minutes I looked thorough the control window into the hallway to see a beaming Wally Schwartz, Hal Neal and Leonard Goldenson all watching with big smiles on their faces. Leaving the studio later to get a drink of water, Rick Sklar approached me saying, "You sure made some points today, Goldenson even came down to watch".
Returning to Pittsburgh and preparing to leave for Chicago , I was surprised by a warm letter of thanks from Leonard Goldenson . The enclosure was also very welcome, a substantial financial reward for the job I did at WABC during the strike. It would be my down payment on my first home I actually would buy in Chicago
All Content on this Web Page © 2006 John H. Rook
All Rights Reserved



Former KQV & WLS Program Director John Rook is writing a book called "Passing Thru". Excerpts of the new book, plus other comments from John are now on line at www.johnrook.com