By PETE BISHOP

"This is Jim Quinn, your LEEE-dah." shrieked as if the Huns were sacking Market Square and often followed by a Gatling-gun barrage of wisecracks, was a frequent outburst on KQV in the late '60s and early 70's.

The perpetrator was New Jersey-born Jim Quinn, who left KQV in 1972 and worked in New York City and Buffalo before returning here in 1977 as the morning drive time disc jockey on WKTQ (13Q), complete with an infamous "duck track" which issued strident quacks for the time, the weather, commercials, anything.

BUT QUACKS and cracks not withstanding, his ratings were low and he was fired in July.

And now he's the midday (10 a.m. to 2 p.m.) DJ on WTAE, replacing Chuck Brinkman, one of the mellowest men ever to sit behind a mike. And Quinn says he's having no problem going from the teens' screaming-meemie buddy to the housewives' lunch-time guest.

It didn't seem like that much of a change. I had been at adult contemporary stations before," says Quinn, 36. "I didn't think I was a teena ct. My ratings, small though they were, bore me out. It was mostly 25 - 34 adults.

I think a disc jockey's demographic appeal is determined more by the station he works for than by any preconceived notions of what he does on the radio, and from the phone calls from listeners, the response has been the kind of response we'd expected at 13Q.

"Eighty perecent of them are in one of two catergories: one, we're really glad you're on TAE because now we can listen to you; two, aren't you the guy that was on KQV when I was in high school? When did you get back to town?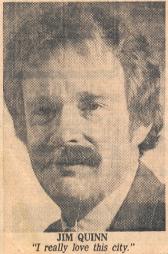 "I THINK given the fact that there was a certain amount of feeling generated by my firing and the feeling that I was a teen act, it took a lot of courage on Ted Atkins' (WTAE vice president and general managaer) part to go out on a limb and hire me for a shift like midday. I just hope he's as pleased at my performance as I am to be with TAE.
"I'm surrounded by people who are funnier than I am and more creative than I am, and that's the way I like it. That way I learn and I grow and I jave to keep pushing to keep up. It's fun to work there."
It wasn't fun at 13Q, the Bridgeville resident continues - "The day I was fired I was on my way to the general manager's office to quit.
"I didn't want to get up at 4:30 every morning to come to work. It was obvious the show wasn't going anyplace. I love radio. I love being on the air (he's been on the air half his life), and when I don't feel like coming to work you know there's something wrong.
"The idea of bringing me in was to create instant familiarty. Today's adults grew up with Quinn on the radio, so why not put the guy they grew up with on in the morning now that they're adults getting up and going to work? That was a valid idea.

"In Pittsburgh, in order to go up against O'Brien and Garry and (Jack) Bogut, you've got to have a credible, news department. You've got to have a sports honcho, a la Myron Cope. You've got to play the right music.

"AFTER TWO YEARS with 13Q, when it became obvious the morning show wasn't working, they had to look for something to blame it on. It couldn't be the fact they had a one-man news team or no sports expert or played the wrong records. So they looked around and shot at the most visible person on the station.

"I think someone convinced the new general manager I was a teen act, which was true 12 years ago. But we all grow up, and I submit it was 13Q that was the teen entity, not me."

There's more bemusement than bitterness in Quinn's voice when discussing his firing, and indeed he admits "it's not important how I felt. What's important is that I'm at a really good radio station and I get to stay in Pittsburgh.

"When I was out of work I had offers from Houston (two stations), Los Angeles, San Diego, Portland, Cleveland and Buffalo. I didn't accept any of them, hoping something would develop in Pittsburgh.

" I really love this city. It's treated me so well. The people here are great, and when they decide they like you they never forget you. Living in Pittsburgh is like living in a family with 2 1/2 million people in it."