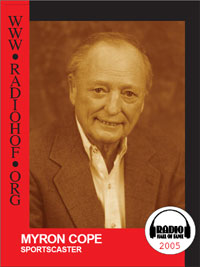 On June 20, 2005, Myron Cope retired after 35 years as color commentator for the Pittsburgh Steelers Radio Network.
On August 6, 2005 Myron was honored by being at a dinner at Canton, Ohio, with the Pete Rozelle Award, given annually on the eve of the Hall of Fame induction ceremony for long-term exceptional contributions to radio and television in professional football.
On November 5, 2005 Myron was also be honored with induction into the National Radio Hall of Fame. Congratulations Myron. Thanks for bringing such greatness and dedication to Pittsburgh throughout your award winning career. Mazel Tov Myron.
Click on speaker or player to the left to hear Myron's Induction Ceremony into Radio Hall of Fame.
On February 27, 2008 Myron Cope passed away at the age of 79. Read more on Myron here .