This is Part 3 of The History of WIKZ

TOP 40 DROPS, THE WINDS OF CHANGE BLOW FOR WIKZ
During the late 80s and early 90s, the Top 40 format was changing. Many of the pop superstars that drove listening in the early 80s were no longer putting out hit music. The country format had experienced a great resurgence and the music being released to top 40 was no longer mass appeal. It was either rap or grunge, appealing to the very young or it was the more traditional Rod Stewart, Bryan Adams or Elton John , for the older segment. The Top 40 format was in trouble nationally, and stations were dropping the format in droves. In an effort to breathe more life into the format and the station, in March of 1991, Z-95 began promoting that a change was coming . On the 12th at Noon, Z-95, became Country 95, then two hours later, E-Z95, followed by classic rock, comedy, disco and then oldies before returning to Top 40 the next day at noon. The stunt generated a lot of talk and actually pumped up the ratings in the Spring of 1991, but the numbers did not hold. The country was also in a post Gulf war recession, which was making things more difficult on the money side. After much consideration from ownership, the decision was made drop the Top 40 format.

The Top 5 Songs from Z-95;s last week of Top 40
February 25, 1992

| | |
| --- | --- |
| 1. To Be With You | Mr. Big |
| 2. I'm Too Sexy | Right Said Fred |
| 3. I Love Your Smile | Shanice |
| 4. Tell Me Want You Want | Tevin Campbell |
| 5. Good For Me | Amy Grant |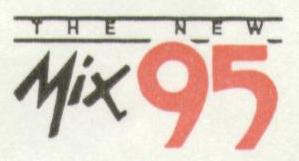 THE NEW MIX95
After nearly 15 years as a Top 40 radio station, the last 8 as Z-95, the decision to change format was a blow to much of the staff. We felt as if we were losing a family member. In order to gain ratings, particularly in the 25-54 demographic, the decision was to make WIKZ a soft rock adult contemporary station. The station was in many ways an exact opposite of Z-95. It played very few current hit songs, the artists that were played were of the Michael Bolton, Elton John, Phil Collins and Kenny G. variety. The artist roster later evolved to include Kenny Rogers, Neil Diamond, and Barbra Streisand. There were no contests or promotions, very little personality, and no energy. The word 'sterile' might have been used to describe the station. It was a radio station designed simply to be background music for offices. Initially, the novelty of the new radio station did what it was intended to do: bring in 25-54 listeners who listened at work. After a year and the newness had worn off, the ratings began to see-saw. In two years, the station wasn't even performing as well as it had during its last years as a Top 40. It was time for another change.
Part 4 of The History of WIKZ