WLS had 2 personalities named Bill Bailey.

The first came to WLS in 1969 and did mornings on WLS for only a short time before returning to Kentucky. Bill was known as "The Duke Of Louisville". Bill Bailey 1 came to WLS from WKLO and went to WAKY in his return. Bill (William Boahn) passed away on Saturday January 14, 2012 at the age of 81. He had lived in a nursing home for a number of years following a stroke.

The story of Bill Bailey coming to WLS from the Louisville Times, July 11, 1969 and from 79waky.com...

Hired By Chicago Station
Bill Bailey Gets Big-Time Pact;
5-Year Contract Is for $300,000

Bill Bailey, one of Louisville's most popular radio announcers, has been hired by WLS-AM in Chicago at a salary that's "the biggest we've ever offered a new man," according to John Rook, WLS program director.

The contract guarantees Bailey a minimum $300,000 income over a five-year period, with the opportunity to make more if his ratings are strong. He leaves here July 25 and goes on-air in Chicago July 28.

The offer was made after WLS officials - who came to Louisville last week to listen to Bailey's 6 to 10 a.m. weekday show on WKLO-AM - decided "we had to have him," said Rook yesterday.

Bailey came to WKLO in October 1965. Since that time he has built up a listening audience that may outrank that of any other Louisville radio announcer. Recent ratings credit him with 32 per cent of the listening audience, eight percentage points above the nearest competitor.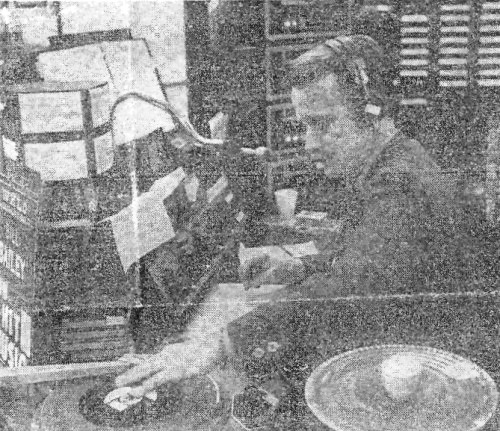 Going Big Time
His move to Chicago will place him in the big time - a 50,000 watt station in Chicago's metropolitan area. WKLO's power has been 10,000 watts since a short time ago.
Bailey's name had been known in Chicago broadcasting circles for some time, Rook said. "We had heard from various station in the Louisville market that they would like to see him out of there."
Last Wednesday, after winding up a business trip, Rook decided to stop by Louisville and sample Bailey's on-air style himself. He was impressed enough to call Gene Taylor, a WLS vice-president, to come to Louisville on the Fourth of July and listen.
Their decision was unanimous. Bailey is "one of the best morning men in the country," Rook said. "You never know what's he's going to say next."
The morning hours, especially 7 to 9 a.m., are a peak listening period for radio, and stations want a man with a strong audience attraction to put in that time period.
Bailey will continue his 6 to 10 a.m. schedule on WLS, replacing announcer Clark Weber, who had announced he was leaving before Bailey was hired.
The offer came as a surprise to Bailey, who did not know he was being studied by WLS officials. When he heard the size of the WLS offer, "I was a little stunned, frankly," he said yesterday.
One of Best-Paid
Bailey wouldn't reveal his salary here, but he is generally considered one of the best-paid announcers in Louisville. His Chicago salary, which starts at between $60,000 and $70,000 for the first year, is easily a "100 per cent increase" over his present pay, Bailey said.
Now 38, Bailey got his first broadcasting job at 16, and has announced for classical, country and rock 'n' roll music shows in his career. He was born William Clyde Boahn in New Bern, N.C.
His on-air voice and delivery are reminiscent of a carnival barker, and he frequently makes himself or his family the butt of his jokes.
Bailey's analysis of his success is that "I am a very strong personality. To a certain element of the audience I can be offensive, but I'm still interesting."
Rook's analysis is that Bailey is "believable," "real" and "human - somebody that doesn't sound like a disc jockey."
The other Bill Bailey joined WLS from WWDJ in Hackensack, NJ in 1972 and worked evernings at WLS. Bill was hired by WLS Program Director Mike McCormick and started the same night as John Records Landecker. Bill was the youngest air personality ever hired at WLS. He remained at the Big 89 for 2 years.
Bill Bailey's story is told in an interview with Inside Radio's Mike Kinosian. Bailey left WLS in May 1973. According to Billboard Magazine, "Chuck Knapp is out at WCFL-AM, Chicago, and Bill Bailey out of WLS-AM, Chicago. Along with their engineers. Seems they made some makes together and management frowned rather severely on both of them."
After WLS, Bill Bailey 2 went to WDRQ in Detroit to host the morning show. Bill is currently heard on WGVU Real Oldies 1480/850 am in Grand Rapids, Michigan. Bill appeared at the WLS Rewind in 2008.
Bill passed away on June 12, 2013.