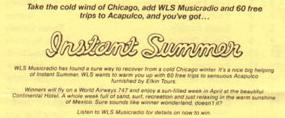 In February, 1978, WLS Musicradio
sent Chicagoland listeners to Acapulco.
Not just 1 trip, not 2, not even 10.
60 trips to Acapulco from WLS Musicradio.
WLS gave away 60 week long trips including
airfare on World Airways 747 jets and a stay
at the Continental Hotel.
Sand surf, recreation and relaxation in the sunshine of Mexico from WLS Musicradio.