Tommy Edwards started out his radio career in Topeka, Kansas. While serving in the US Navy, Tommy worked at WEAM-AM in Arlington, Va, Tommy also worked middays at WOR-FM in New York. Tommy Edwards then joined WLS in July 1972 as production director. Tommy was promoted to WLS acting program director in May 1973 by Paul Abrams, replacing Mike McCormick who left WLS for WFBM-AM and WFBQ-FM in Indianapolis.

During Tommy Edwards time as WLS pd, legendary personalities, Bob Sirott, Yvonne Daniels, Steve King and music director Jim Smith all joined the station. Also during Tommy's stewardship, WLS made the switch from the "Rock of Chicago" to "Musicradio WLS".

While he was PD WLS started the long running promotion... "What's Your Favorite Radio Station - - say WLS and Win!
In January, 1974, Tommy stepped down as program director in order to returrn to the air. He was replaced as pd by John Gehron. Tommy spent many years in middays and afternoons.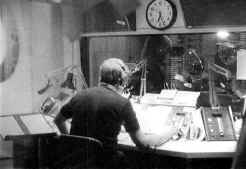 Tommy in Studio courtesy Scott Childers

Tommy of course is well known as 'Lil Tommy along with Uncle Lar' and Animals Stories.
The WLS touchtones sounds were first created by Tommy Edwards in 1973, using the electronic telephone beeps of hitting the numbers 8-5-2-0-5

After 14 years at WLS, Tommy moved on to Q101 - WKQX in 1986. Career stops have included Boston and Los Angeles where he created the Arrow format at KCBS-FM. as well as a return to Chicago.

Tommy finished his career at K-Hits (WJMK), and he is the operations manager of several channels of AccuRadio's Chicago Radio Online.

Tommy is also the public address announce for the Chicago Bulls. He is credited with being the first stadium announcer to play Gary Glitter's Rock and Roll part II.

Tommy Edwards retired from radio in September, 2014.