Hal Murray's radio career hopscotched across America before and after arriving in Pittsburgh and KQV. Stops included KFWB in Los Angeles, WNEW in New York, WOKY in Milwaukee, WINZ in Miami, WEEK in Peoria, WILZ in St Petersburg, WKIS in Orlando, WHKK in Akron, and WNOE in New Orleans among others. KQV program director John Rook brought Hal to KQV in early 1964 by way of KDWB in Minneapolis. Hal had previously worked for Rook in Denver. John Rook says. "Naturally one of the very first problems I had to solve was finding a new morning man. I immediately called Chuck Blore at KFWB in LA for his advice. He suggested Hal Murray who was in Minneapolis. I did, known to me but Hal had never run a board in his radio career...always had union tech's that did all that....so Hal hits the air and I rolled out of bed, rushed to the station to ask..."why all the dead air".... as Hal explained..."Gee Boss, I ain't never run a board before"

When Hal first came to Pittsburgh in February 1964 from KEWB in Minneapolis, He was on mornings at KQV replacing Jim Gearhart. Mornings were Merry with Murray at KQV. The Murray Go-Round was always fun. Hal Murray had a vaudevillian style and was the master of the one-liner. Hal switched shifts with Big Steve Rizen and moved to midday in July 1965.
KQV promoted Emperor Murray and his disciples became known as Murray's Militia. Hal dressed up in his Emperor's cape with his scepter and introduced acts like The Beatles, Rolling Stones and the Monkees at Pittsburgh concerts. The concept for Emperor Murray and Murray's Militia may have originated in Los Angeles at KRLA with Emperor Bob Hudson and his Commandos. The voices in the Murray's MIlitia promos were all KRLA employees. Daphne was played by Sie Holiday, Colonel Splendid was played by KRLA newsman Richard Beebee, Lt. Cavendish was played by Casey Kasem, and the announcer at the end was KRLA DJ superstar, Dave Hull (The Hullabalooer). (from Uncle Ricky's Reel Top 40 Repository)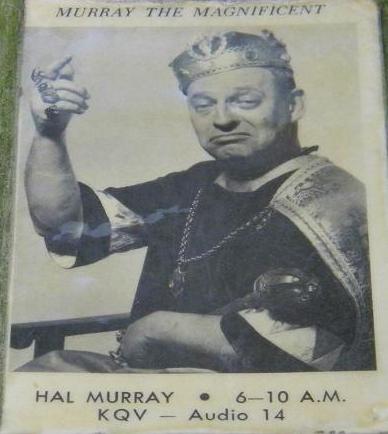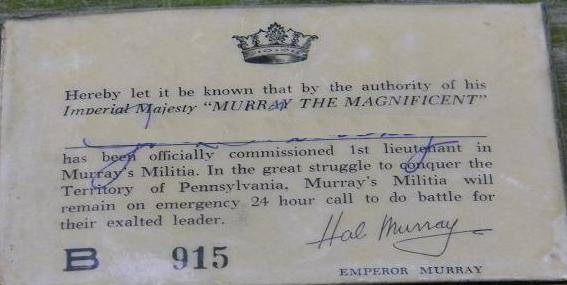 In June 1967, Hal left KQV for WINQ in Tampa. Hal was working at 11-7 radio in Lakewood New Jersey (WHLW) for Joey Reynolds and returned to KQV for a short time in 1975. Hal Murray passed away September 17, 1988 at the age of 67.

Hal Murray's career not only included radio, but also tv and the stage. Hal appeared in plays including "See How They Run", "Harvey", "Born Yesterday", "The Seven Year Itch", "Roomful of Roses" and many more.

Thanks to Butch Sorenson for providing Hal Murray's Scrapbook for many of the items that appear here.
Hal Murray in KQVehicle

Hal with Thoroughly Modern Millie
in KQV Studio B

Murray The Magnificent

Hal Murray inducts CLO star
in Murray's Militia

Carl Ide, Miss Pittsburgh & Hal Murray

The Murray Go-Round Logo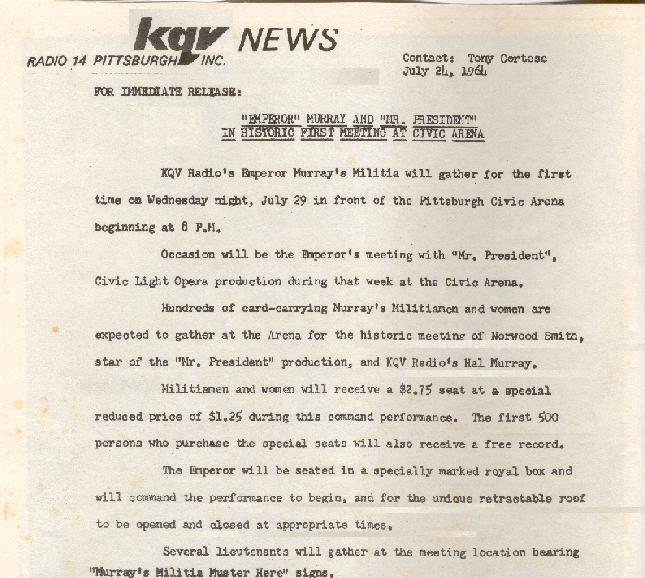 Murray's Militia goes to the Civic Light Opera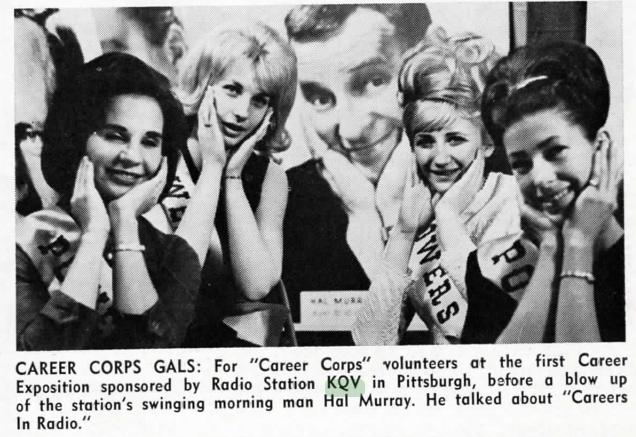 Read Pittsburgh Press TV Columnist's article on Hal Murray here.
In the summer of 1965, I had the fortune to visit KQV for the first time and met Hal Murray as he was coming in to begin his show after the Breakfast Club. From that moment, I decided I wanted to work in radio. Thanks Hal ... Jeff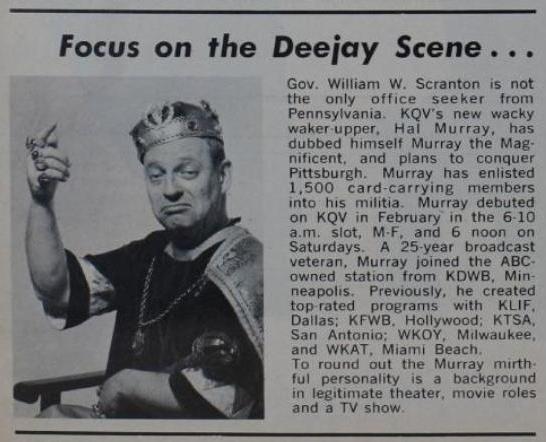 (Billboard Magazine July 18, 1964)