Larry Lujack is a Hall of Famer! Larry was inducted into the Illinois Broadcasters Association's Hall of Fame in June 2002, National Radio Hall of Fame on November 6, 2004, and on April 15, 2008, Larry Lujack was inducted into the National Association of Broadcasters Hall of Fame.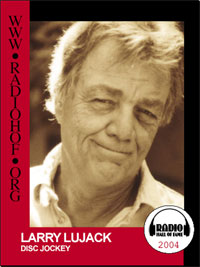 (click above)
Larry started out looking for a career in wildlife conservation. Instead he landed up in the Hall of Fame. He started in radio at KCID in Caldwell Idaho. Born Larry Blankenburg, He took the name Larry Lujack from football legend Johnny Lujack. Larry's career took him through Idaho and Washington ending up at famed KJR in Seattle. In 1967 after a stint in Boston at WMEX, Larry would head to Chicago. His first Chicago stop was overnights at WCFL. In less than a year, Larry would moved across town to The Big 89 for 3 - 6 in the afternoon. A Chicago radio legend was born. Larry remained in afternoons at WLS until October 1970 when then pd Mike McCormick moved him to mornings replacing Art Roberts on the Rock of Chicago. In June 1972 Larry moved back across town to WCFL and afternoons under former WLS pd John Rook. Rook took Larry's Super Jock nickname and renamed WCFL as Super 'CFL. When WCFL left the top 40 format in 1975, Larry was there for the format change where he remained until WLS and WCFL split his remaining contract so he could return to WLS. In 1976, Larry came home to WLS and mornings. He remained in mornings until 1986 when moved back in to afternoon drive. Larry retired from WLS on August 22, 1987.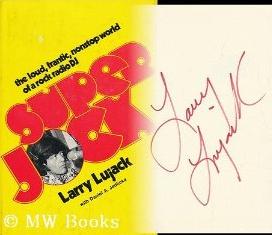 Larry is known for his sarcastic style and famous features like the Cheap Trashy Show Biz Report, The Klunk Letter of the Day, and of course Animal Stories. His book Super Jock was published in 1975.