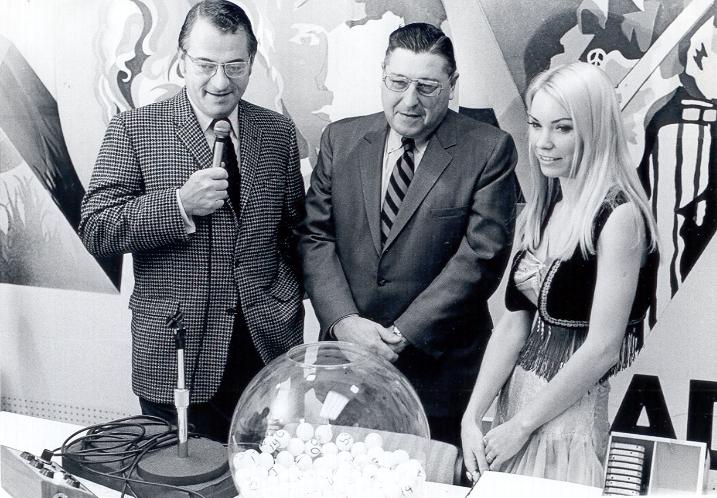 KQV's John Gibbs, Pittsburgh National Bank's Al Irson (sp) and the KQV Genie Robbie Rae
prepare to draw the winner of the KQV $25,000 Fantasy on the Bob DeCarlo Show on
November 30, 1973. The audio of that morning is here with Bob DeCarlo

---
In the early 1970's many stations asked listeners what they wanted to win. The listeners then would submit their fantasy. One lucky listener would win their dream fantasy.

In the fall of 1973, the $25,000 Fantasy came to KQV. The rules were simple. You could win your fantasy by sending a card or letter to KQV explaining your fantasy. It could be worth up to $25,000. It had to be legal, and it had to be something that KQV could buy for you. Fantasies were then read over the air and the listener won a qualifying prize and was entered into the drawing to win their fantasy. KQV's Fantasy contest ran from October 5 - November 30, 1973.

The Pittsburgh Post Gazette's Win Fanning reported on October 4th, reports "Tomorrow KQV will launch a new effort to attract and hold the young adult audience, the 18 to 49 year olds, "who have grown up with the station." It will be called 'Fantasy' - in other markets it has been titled 'The Last Contest' - and will offer up a $25,000 reward for daydream will come true on November 30. The details can be learned by tuning to the station, but in essence listeners will be invited to name their own fantasy prizes and for the winner the dream will come true. The novelty here is, of course, that material prizes are ruled out. No car, fur coats, etc. But if you have dreamed have having an audience with the Pope in Rome, well, that might be arranged."