Radio Station's Mobile Studio
Is Becoming Familiar Sight In District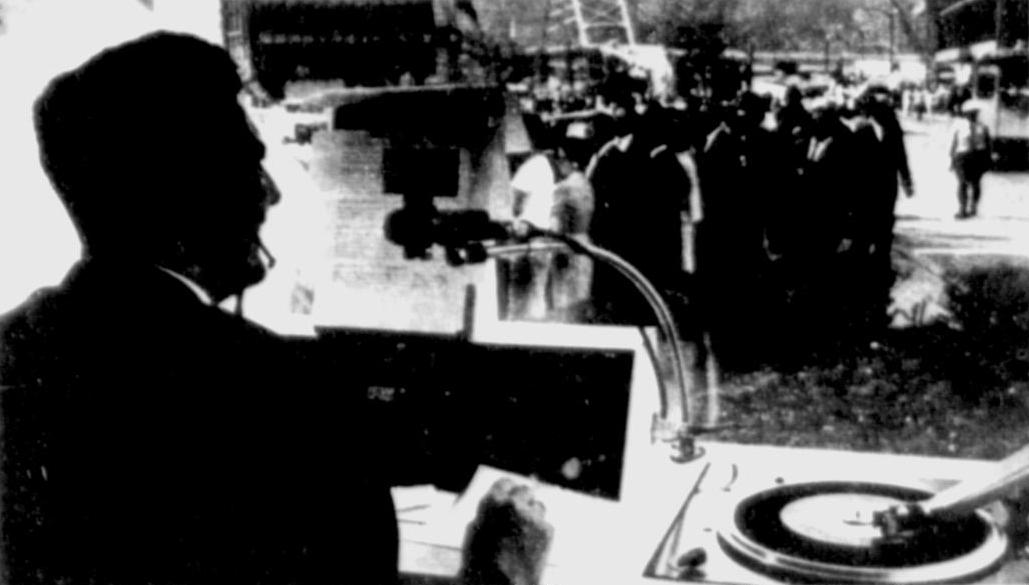 The Vehicle's small studio is an exact replica of the KQV fishbowl studios on the ground floor of the Chamber of Commerce Building. DJ Henry DaBecco is seen here doing record show from Gateway Center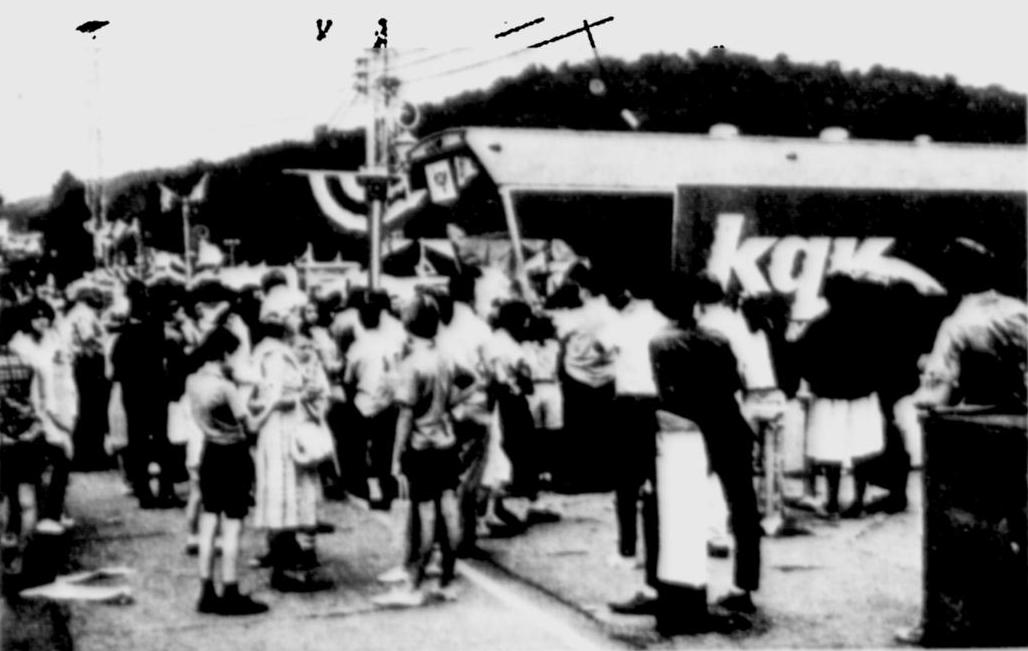 The Vehicle's maiden voyage was to the South Park Fairgrounds for the Allegheny County Fair Labor Day weekend. The station's record shows originated at the Fair, drawing many to the glass-enclosed studio.
The KQVehicle has become a familiar sight around Pittsburgh.

It has turned up at Steeler games, at the Auto Show, at the Allegheny County Fair in South Park and numerous other places.

It's a mobile studio, an exact replica of KQV's "fishbowl" studios on the ground floor of the Chamber of Commerce Building.

Weighing 6600 pounds, about twice the weight of a comparably sized house trailer, the KQVehicle is a self-cantained radio studio. It has two turntables, their needle arms delicately weighted and pivoted on ball and socket joints so that no amount of rocking or jostling disturbs their performance. It's completely soundproof and carries a 24 hour supply of records for the disc jockeys who originate shows in it. It has it's own heating system and a trim lounge adjoining the studio.

Though it has it's own 450-megacycle transmitter, the vehicle is usually hooked into the telephone system when in use.

Civic Uses

"On an ordinary broadcasting day from the Vehicle, we switch back to the station only for news broadcasts and network originations," explains John Gibbs, KQV's general manager.
It's cost?

"You can say it was five figures," replies Mr. Gibbs cryptically.

The Vehicle has been put at the disposal of the City of Pittsburgh as a promotion device for worthy public services. Mr. Gibbs has plans for taking it to district high schools, so the transistor crowd can watch KQV record shows as they originate.

Miniature Station

Though KQVers dislike having the Vehicle called a trailer ("We avoid that word. We think it distorts the picture," says Mr. Gibbs). the unit is not self-propelled. It is hauled by a tractor, and when not in use is berthed in a garage in McKees Rocks.

The Vehicle duplicates virtually every facility in the parent station, with one noteworthy exception. That is why locations chosen for KQVehicle broadcasts must be in reasonable proximity to rest room accommodations.