One of the first mobile studios. It was complete with radio and news studio.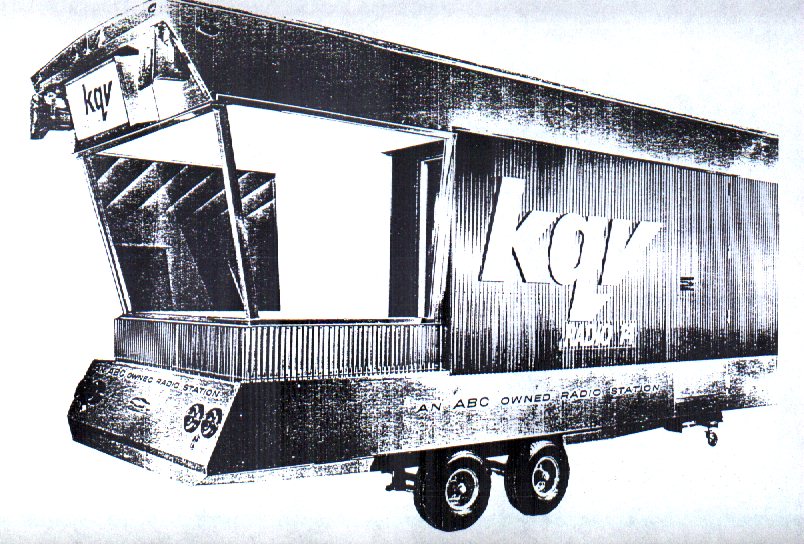 (artists drawing provided by KQV)
The following article was published in The Smaller Manufacturer - October, 1963
A FIRST FOR PITTSBURGH, here is a rolling radio studio that is completely self-contained. This mobile unit is as fully equipped with modern technical equipment as any studio can contain, including a rest lounge and heating and cooling system.

Named the K Q Vehicle by Radio Station KQV, an ABC-Owned Station, the unique mobile unit was designed and built by a local display and exhibit builder, GRS&W, Inc. of 5875 Centre Avenue. The K Q Vehicle was unveiled recently during a special showing at Chartiers Country Club (above).

For years, GRS&W has been recognized as a leader in the design and manufacture of mobile displays. The firm has built many mobile displays for major Pittsburgh area corporations, but this is the first time its designers and builders ever put together a radio station on wheels. The walls of the unit are specially reinforced to support the large glass windows in the front. Special dies were made for the aluminum exterior since it was designed to match the design the design for KQV's dowtown studio. Extra insulation provides maximum fidelity. Angles of reflection of sound were carefully considered, resulting in a louvered ceiling which combines acoustic tile and lighting. Carpeting throughout eliminates reverberation. The station plans to use the K Q Vehicle in the public interest to support community action projects sponsored by local civic, charitable and government foundations. It also will be used as a traffic builder and sales vehicle for local businessmen and merchants who invite the station to send the trailer to shopping center openings and similar affairs. One of the first appearances was at the recent Allegheny County Fair.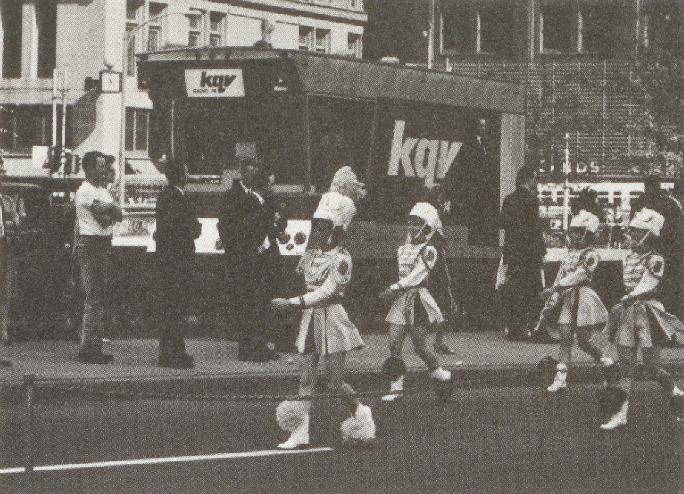 From the 1964 ABC Pamphlet "Saga In Sound"...

In Pittsburgh, KQV's modern remote unit brodcasts on-the-spot parade coverage at the city's "Golden Triangle." The KQVehicle remotes cover dozens of community events annually.
K Q Vehicle - Page 2
More pictures of the K Q Vehicle are on the John Rook Page
KQVehicle Page Updated December 14, 2004