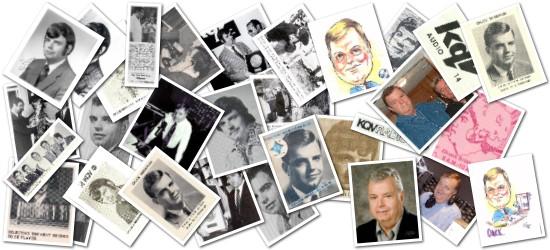 Chuck was the longest tenured air personality at KQV during the top 40 era. He came to KQV on December 12, 1960. Over the years he handled every shift at KQV. Starting out overnight, he moved to evenings. He featured the Disc Derby and the nightly Hit Lines. Chuck made trips to Liverpool to interview the biggest acts from the British Invasion. He also traveled to the Bahamas to interview the Beatles during the filming of Help! Chuck hosted the dance show Come Alive on Channel 11 WIIC-TV in 1966 and 1967. He took over afternoons from Dave Scott with the Top Pop 5 the weekly KQV Hit Parade and later switched to mornings. He then moved to middays until he left on October 13, 1972. He continued his Pittsburgh career at WTAE and WMYG before leaving for Dallas. Chuck will always be remembered as the man that introduced the Beatles at the Civic Arena in 1964.
Audio of Chuck Brinkman welcoming the Beatles


Chuck Brinkman on KQV, March 1965 courtesy Art Vuolo.

Andrew Goldstein of the Pittsburgh Post Gazette wrote this...
"Chuck Brinkman, a KQV-AM mainstay in the 1960s who became one of Pittsburgh's most popular Top 40 DJs, died Friday surrounded by family at his home in Plano, Texas. He was 83.
Mr. Brinkman's son, Jonathon Brinkman, confirmed the death to the Pittsburgh Post-Gazette. He said his father had suffered from Parkinson's disease.
Mr. Brinkman, born July 19, 1935, was a Dormont native and Kiski Prep School grad. He was a DJ with KQV from 1960 to 1972, and doubled part of the time as a music director.
In 1964, he introduced the Beatles to the crowd at the Civic Arena - the band's only Pittsburgh concert.
Mr. Brinkman was one of the most popular Top 40 DJs here in the 1960s. He was part of then Top 40 station KQV's "Fun Lovin' Five,: which also included Hal Murray, Steve Rizen, Dave Scott and Dexter Allen.
He went on to become DJ/music director for WTAE-AM and WFFM/WMYG, and he left Pittsburgh for a job in Dallas in 1988, eventually becoming part owner of an oldies station in Greenville, Texas.
Mr. Brinkman was inducted into the Pittsburgh Rock 'N Roll Legends class of 2017.
He is survived by his wife, Carmella Brinkman of Plano; sons Jonathon Brinkman of San Diego and Charles Brinkman IV of San Diego; and daughters Lisa Meline of Scottsdale, Ariz., Nicole Levett of Dallas, and Christine Brinkman of Dallas."